Denis Tremblay, a.k.a The Wakefield Pirate, lives on a stunning houseboat he built with reclaimed materials. He's a creative who builds furniture, hardware, and anything else that strikes his fancy.The Dragon Boat is 34 feet long including the front and back decks, and 10 feet wide.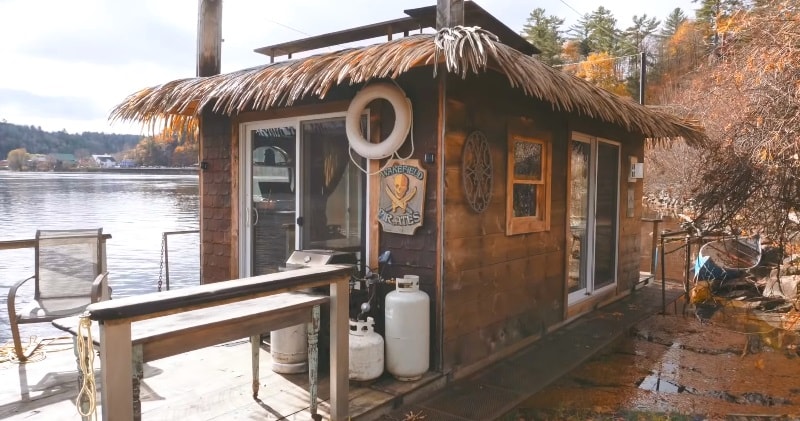 source/image: Exploring Alternatives
It has folding cat walks on both sides. The cabin is 19 feet long by 10 feet wide, so 190 square feet of indoor living space. He also has a rooftop deck for added living space (and amazing views).via: Exploring Alternatives
Denis built this boat 4 years ago using a welded aluminum frame, cedar wood, tin siding, and other reclaimed materials. He built most of the cabinets and furniture with salvaged wood and metal, and antiques, for a very unique look.
Advertisement
The thatch roof is actually made with plastic from recycled milk cartons. It's more durable than real thatch, and it's lighter than using metal or shingles for the roof.The boat is on 4-season pontoons that can freeze into the ice without damaging the boat..read more(Exploring Alternatives).