In this video while I was out on the ScottieDTV You Can't Cancel Cool Road Tour I stopped by the NSRA Street Rod Nationals in Louisville Ky.I found this very cool custom 1950 Suburban.. I don't know if it is a GMC or a Chevrolet.But I do know that it is covered in a off white paint with a rootbeer pearl trim color.That it wears well.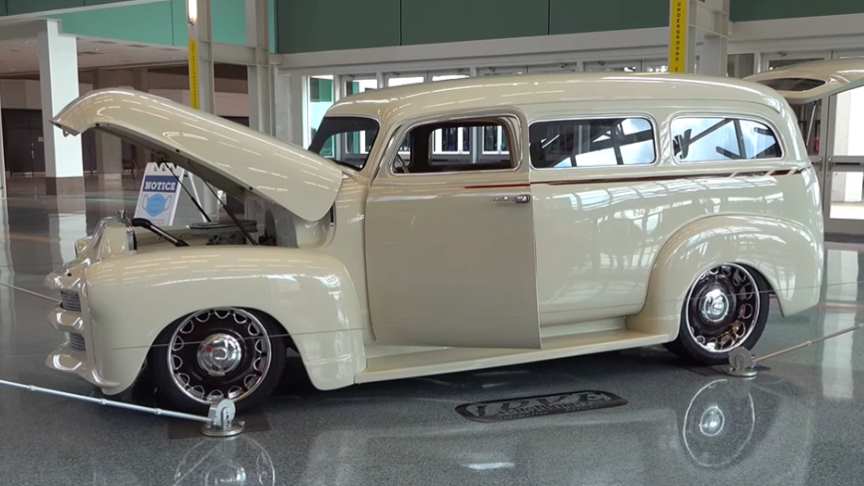 source/image(PrtSc): ScottieDTV
The interior is all leather and custom done in a medium brown with some 150 year old reclaimed wood accents.Very cool and fits the build perfectly.This 1950 Suburban from the 2020 NSRA Street Rod Nationals is custom from the front to the back.Top to bottom.
Way to many body modifications to list in this description but at the end of the day.They are all improvements and none take away from the 1950's cool this Suburban had from the factory. Wheels are always a personal choice and no one set will please everyone.
Advertisement
I'm good with the ones they chose to run on this 1950 Suburban.They are like the old wheel and cap.But done to a much higher level. Under the custom hood is a Chevrolet 350 and a clean install.The suspension has all been upgraded to modern technology so that the power reaches the ground and it rides like a new 2020 Suburban. Trucks are hot and the SUV's of the day are staring to being done also.I dig this one.I'm sure You will to./ScottieDTV