The guy behind this twin-engined pulsejet motorcycle, Robert Bob Maddox.Bob Maddox riding his one of a kind super twin engine 200 pound thrust jet bike Harley Dragon bike.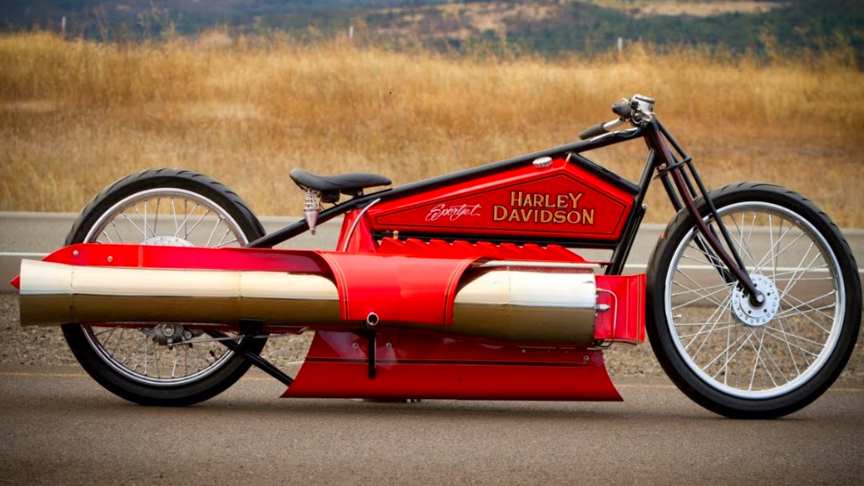 source/image(PrtSc): Robert Maddox
This was the first test run on the Harley Sport Jet, the guy talking to me is my nephew Tyler Maddox, Maddox visual. The bike makes 250lbs of thrust, allegedly good for 200mph.The one-off motorcycle is apparently based on a 1929 Harley-Davidson flat-track racer.// Robert Maddox
The Harley Davidson SportJet can complete the sprint to 60mph in just five seconds. Aside from the tires, rims and brakes, Mr Maddox fabricated the entire bike – including the jet engines – in his shop in Medford, Oregon.Pulse jets run on virtually any fuel – Maddox tested out the latest bike with regular 87 octane gasoline.
Advertisement
In this video I'm doing the first run on my new Harley Sport Jet bike out in the desert by Klamath Falls Oregon, I had the engine jetted up to high so when I hit full throttle it died( later promting me to desgin a pipe that wont let an engine to go out from to much fuel).
My fab shop is in medford Oregon where I grew up. I was a cabinet builder and fine artist for most of my life.In 1990 I started skydiving and made around 3000 jumps over the next 20 years and began building pulsejet engine around 2000.// Robert Maddox