Dunkel Industries' Luxury 4×4 – the largest pickup truck we've ever seen. It's 8.5 feet wide, 32 feet long and almost 12 feet tall!The Dunkel 4×4 is an RV and pickup fused together.It's built on a Ford F-650/F-750 chassis with a bed that's big enough to fit a full-size car with room on the top for dirtbikes. There's no need to tow a trailer!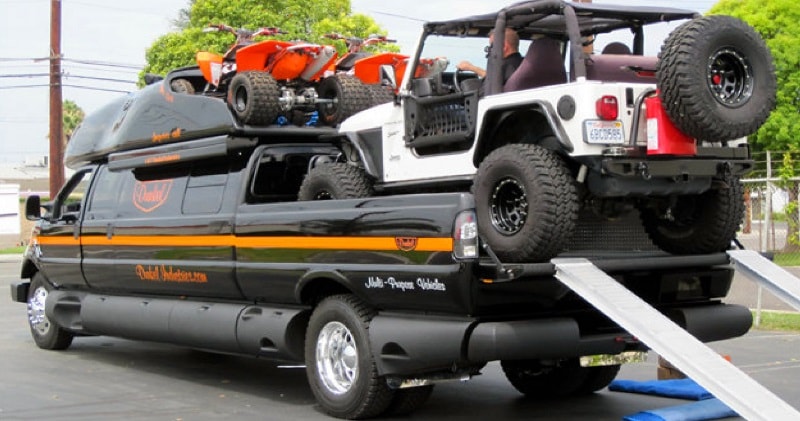 source/image: Dunkel Industries
This Luxury 4×4 actually has a place for a car with the dimensions of a small off-road vehicle on its loading area. In addition, two quads can be stowed on the roof. Difficulties in the terrain are of course unknown to the mega-off-roader.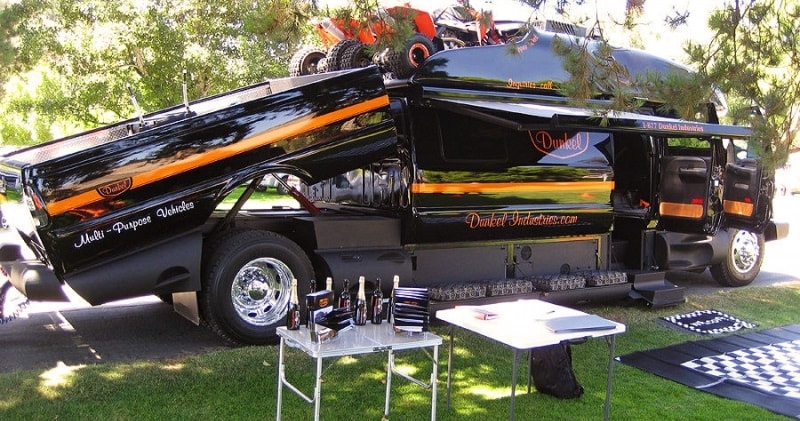 source/image: Dunkel Industries
The luxury truck features a 6-speed automatic transmission with a power plant rated at 300 hp over 800 pounds feet of torque, 5.29 axle ratio with a 12k capacity front axle and 12k front suspension capacity. Its interior is fitted with custom cabinets in both birch and cherry finishes.
Advertisement
Which provide maximum storage space that stay closed while navigating a rough terrain, as well as other luxurious features such as upholstery ceiling with LED house lights and trim, 17-inch flat screen, DVD,12V power supply, 110 outlets, custom trim and custom carpet.
His four-wheel drivecomes from the specialist Fabco, who also supplies military vehicles with 4×4 drive.The basis is a Ford F-650 .However, Dunkel Industries emphasizes that the Luxury 4×4 is otherwise a stand-alone vehicle and has nothing in common with the Ford .