The VWBug was purchased by Jamie Wiseman last year with the intention of restoring and flipping it for a profit.It's has a 2110cc engine with, Engle W-90 cam, CB Performance Panchito 044 heads with 61cc CNC combustion chambers,7:4:1 compression, Mahle 94mm piston and barrels, CB Performance super race rods,Forged 4140 chromoly 76m crank.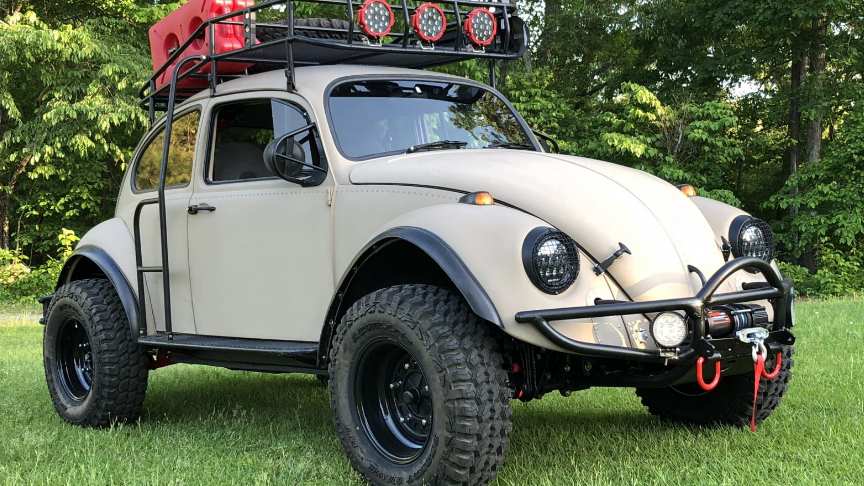 source/image: thesamba/20valve
Forged 1:1 rocker set with Elephant foot adjusters,full flow case, 1-3/8" sidewinder exhaust with relocated muffler, Empi D series 45 center mounted carburetor,Pertronix Ignitor III distributor and coil, welded cooling fan,custom A/C kit. It has tons of torque!/thesamba/20valve
The transaxle is from a 67 bus with big nut reduction boxes, modified Scat super diff, welded 3rd and 4th gears,hardened keys,Kennedy stage 1 clutch with stock flywheel,custom in house made no hop kit for redux boxes.The body has a 3 inch lift with in house made front lift spindles with disc brakes, 3 inch widened front ball joint beam with torsion adjusters. Has 30×9.50-15 mud tires on 15×7 wheels.
Advertisement
The rear suspension has 27mm Sway-A-way torsion bars and spring plates.Has a full in house built roll cage, all custom made bumpers roof rack and ladders. 5000lbs winch.The interior has 2006 Honda Civic seats, gps speedometer,tach,oil pressure,oil temperature,cylinder head temperature, fuel, and AEM Wideband AFR gauge. I had to install a bus shifter because I couldn't reach the stock height one. Installed a rear cutting brake, kerosene 12 volt parking heater, dual batteries.via/read more: thesamba/20valve