The 2024 Renegade RV Veracruz is reshaping the RV lifestyle. This Class C RV packs a punch with a redesigned modern interior and beautifully redesigned kitchen. Featuring white and light gray cabinetry, an abundance of storage and beautiful solid surface countertops, the spacious kitchen and dining area allows you to showcase your culinary skills and entertain your friends and family. Deluxe fabrics and luxurious finishes make the Veracruz luxury on wheels.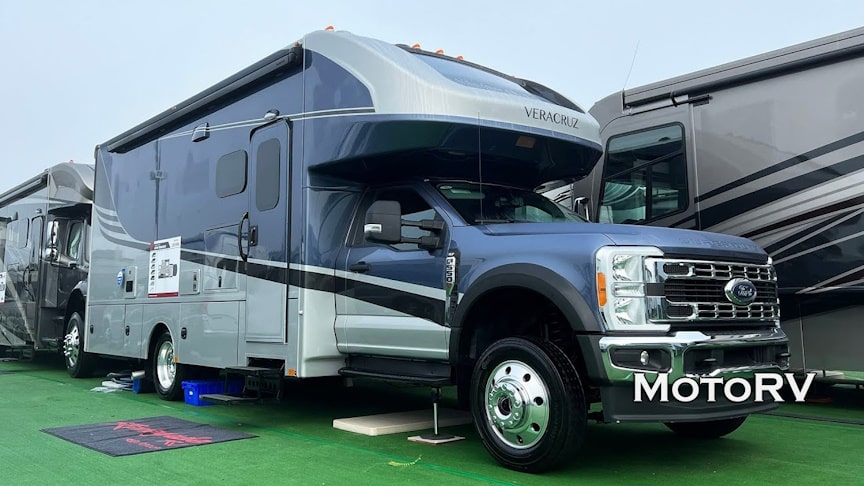 Inside the Veracruz, you'll find a thorough attention to detail, plenty of upgraded features and premium amenities in every corner. Just because this motorhome features a more compact size doesn't mean you need to sacrifice the experience you expect from the brand that rebels against the status quo.There is versatility when it comes to sleeping spaces between the Murphy bed with a 66″ x 72″ mattress to sleep on and a jiffy sofa to sit on during the day, the 70″ dinette, and the 46″ x 80″ bunk over cab.
Here, you'll find abundant storage space, residential-style features, heavy-duty performance and more. Plus, we've carefully packed these elements inside the Veracruz, so you won't ever feel like you're missing out.The kitchen has been beautifully redesigned with solid hardwood cabinets, solid surface countertops, extra space provided by the bed and dinette slide, and storage above the sink, as well as storage behind the 40″ TV, a pantry, and a 10 cu. ft. refrigerator to keep your perishables fresh!
Advertisement
This motorhome comes with a 12,000-lb. towing capacity, has large tank volumes, and is available on an F-550 Super-Duty chassiYou will have the confidence to go anywhere with the Renegade Veracruz Super C diesel motorhome! It is built with a 6.7L power stroke diesel engine with 330 horsepower and a TorqShift 10-speed automatic transmission.