"The result of 50 years of experience and two years of designing, the ih series is the flagship Motor Coach of Foretravel.Since its founding in 1967, Foretravel has employed innovation, style and uncompromising quality to become the leader in the luxury motorcoach industry.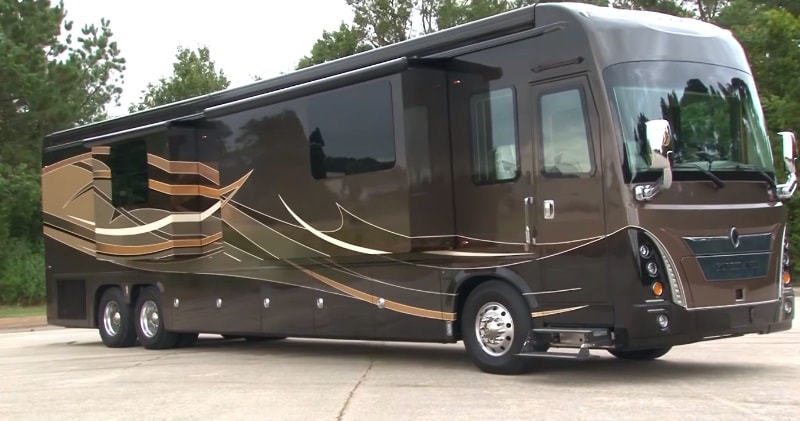 From the first Super Luxura to today's custom-built ih, Foretravel has always been committed to manufacturing a motorcoach that boasts superior ride and handling as well as a beautiful fit and finish."Powered by the Cummins ISX engine, standard with an Allison 4000MHR transmission with retarder, independent front suspension and HWH Active Air System, the IH rides on the TravelRide II chassis and is the ultimate in customized luxury.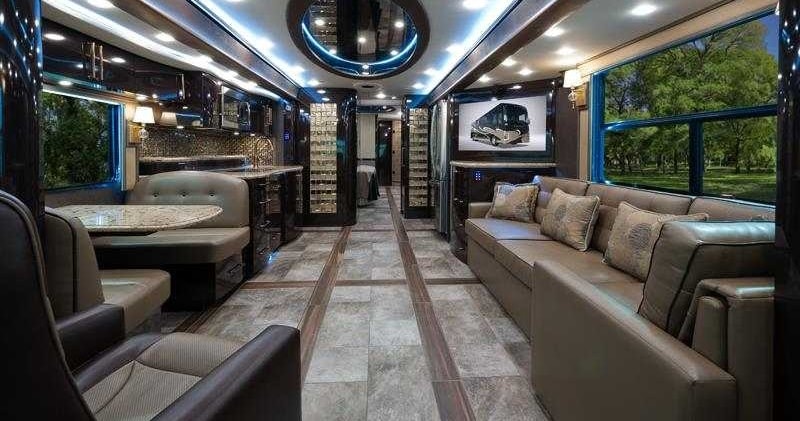 Our talented Custom Design Team has the experience to assist you in creating a Foretravel that is uniquely you.It's a magnificent creation that easily satisfies anyone's desire for extreme luxury and comfort, as long as one can afford the seven-figure price tag.
Advertisement
Opposing slides really open up the front living area. Couches are placed in each slide on flush-fitting floors. Curbside, a table on an electrically operated pedestal can be used for dining. Once the cockpit chairs are turned, the front becomes an even nicer conversation area with plenty of elbowroom that has "entertaining" written all over it.
The galley, positioned about mid coach, is not exceptionally large but it does have all the necessary accouterments for planning most meals. Sink covers improve the counter space, made of natural quartz, and since it's an all-electric coach, the cooktop is flush mounted, providing additional room when the burners aren't needed. A high-end microwave/convection oven can be used for the majority of cooking chores. The sink has special strainer attachments, making food prep and clean up more convenient.