In this video, we're taking a look at a garage that was converted into a great modern living space. It's 21'x21′ on the inside, with a 470 square foot building footprint (43 square meters) so it's kind of like a micro cabin but instead of being out in the woods, it's in a backyard and close to stores and other services.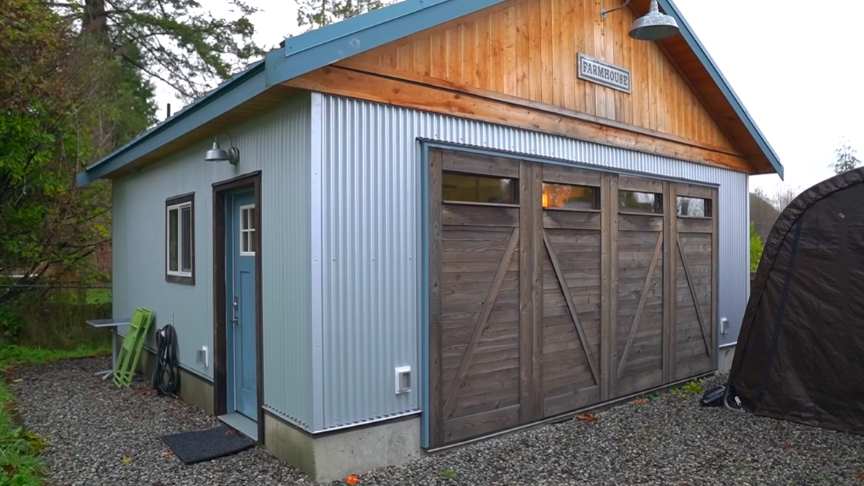 source/image(PrtSc): Exploring Alternatives
This garage conversion is on the Sunshine Coast in Gibsons, BC and the owners converted it into a rental space as a form of house hacking to help pay their mortgage! Inside it's an open concept studio with an incredible interior design and we think this space is really interesting because it has everything you need, and it manages to simultaneously feel wide open and spacious, but also cozy and comfortable.
The exposed concrete floors and corrugated metal ceiling keep the rustic feel of the garage, and the high windows bring in lots of light but they also provide privacy which is great since the main house is nearby.Several interior design techniques help to distinguish each space so that it doesn't feel cluttered.
Advertisement
In the kitchen, the island serves as a natural barrier, in the living room, it's the large area rug that outlines the space, and in the bedroom, there's a large painting and an open-air closet to delineate the sleeping area.Some advantages of open concept spaces are that they feel more spacious, they use fewer materials for things like walls, it can be easier to bring in natural light, and you need fewer fixtures, like ceiling fans for example.via/read more: Exploring Alternatives