This is a beautiful desktop version of a CO2 powered airplane V12 engine. This most probably the smallest V12 engine in the world. This engine is hand made in Europe. Only 100 of them will be made.Carbon dioxide motors have been around for a long time. They are expansion engines which work rather like a steam engine.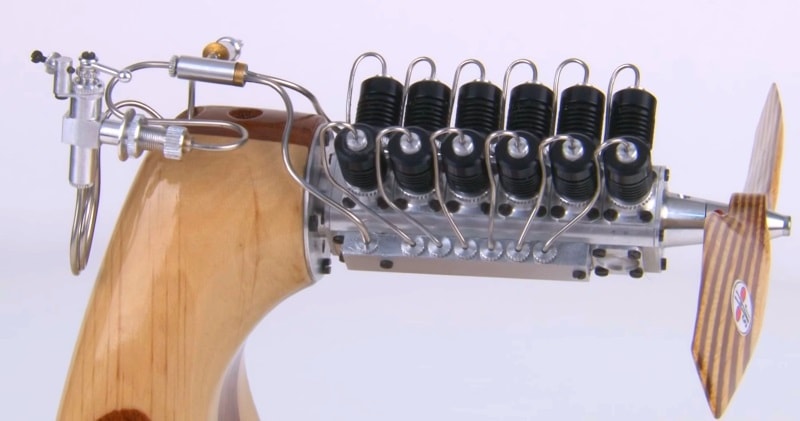 source/image(PrtSc): Ministeam
The tank receives a charge of CO2 which is liquid at ambient temperature at a vapor pressure of about 850 psi. this boils in the tank to supply gas to the motor.G63V12 Bore: 4.0mm, Stroke 5.0mm, Stroke Volume 12 x 62.80 mm3, Weight 108g.This engine is absolutely beautiful to look at and watch run.Size: 2 1/5 inches wide X 5 1/2 inches long X 4 1/2 inches high.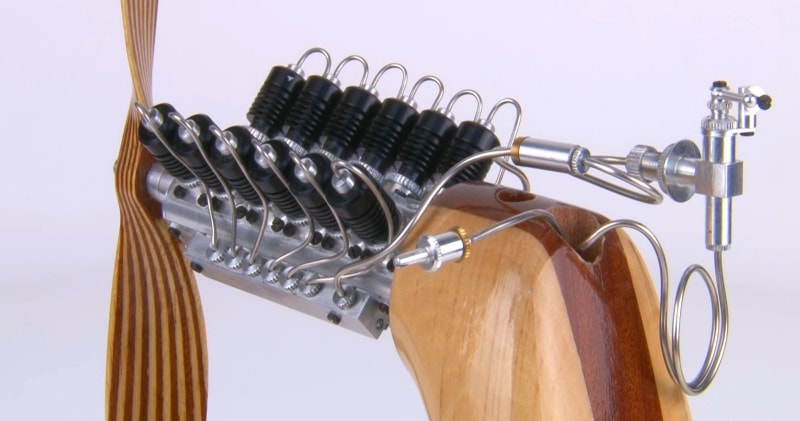 source/image: Ministeam
In the Gasparin the inlet valve is a steel ball sealing under gas pressure in a nylon (delrin type) seat while the piston carries a central peg which lifts the valve as it approaches top dead center. Exhaust is through a ring of ports uncovered by the piston towards the bottom of the stroke.
Advertisement
Gasparins spun alloy tanks, silver-soldered pipe work, connectors and the filler valves are all beautifully designed. The motors use a floating O ring to seal the piston, which works well. They also have a flexible joint between the gas supply pipe and the cylinder head.
This seals in a silicon material and the feature is important because it allows the cylinder barrel to be screwed up and down on its threaded base in the crankcase. This allows adjustment of the valve timing and power output without disturbing the cylinder head gas seal.