The L-39 Albatros was originally designed as a high-performance jet trainer developed in Czechoslovakia by Aero Vodochody. It was developed during the 1960s as a replacement for the Aero L-29 Delfín as a principal training aircraft. It was the first trainer aircraft to be equipped with a turbofan powerplant.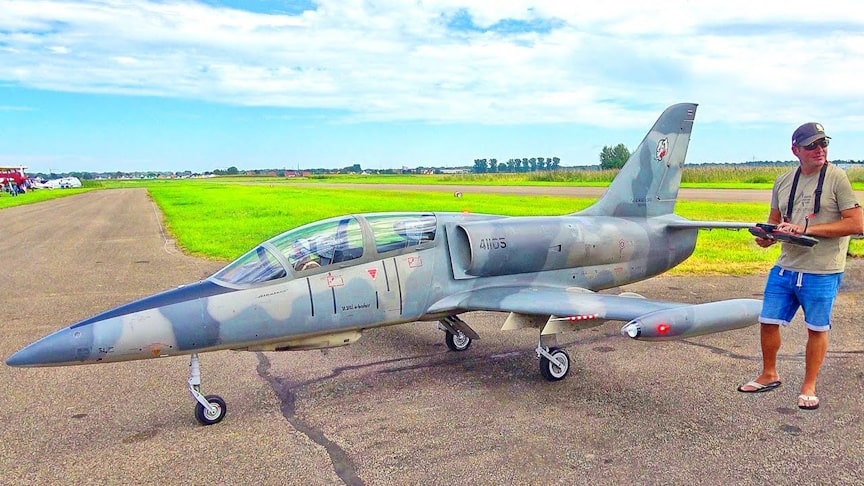 source.image: DIGITAL RC
The Black Horse L-39 Albatros 4.5m is a balsa replica of the full-size model. The model is designed for kerosene turbines with a thrust of 136 kW. The engine turbine engine JetCat P550 Pro N (136 kW) is located in the fuselage and the front wheel landing gear is retractable.It impresses with its excellent flight performance and fantastic detailed finishes.
The body of the airplane is fibreglass/carbon composite.This model Albatros has a lenght: app. 4.50m and wingspan: 3.50m, it is powered by a JetCat P550 Pro N (136 kW) turbine engine, the weight of this airplane is 80kg.This L-39 Albatros includes grass capable suspension landing gear, a full coverage nose door, scale wingtip lights, and easily removable tip tanks, ordnance, belly gun pod, and wings.
Advertisement
This airplane model displays the perfect compromise between a funjet and a professional competition jet.Coupled with outstanding flight characteristics and beautiful lines this L-39 Albatros is the king of jet model airplanes.The pilot of this airplane in this video is Christian Glaser at the Horizon Airmeet 2023, Genderkingen / Donauwörth event.