The Airbus A380 is a wide-body aircraft manufactured by Airbus. It is the world's largest passenger airliner. Airbus studies started in 1988 and the project was announced in 1990 to challenge the dominance of the Boeing 747 in the long haul market.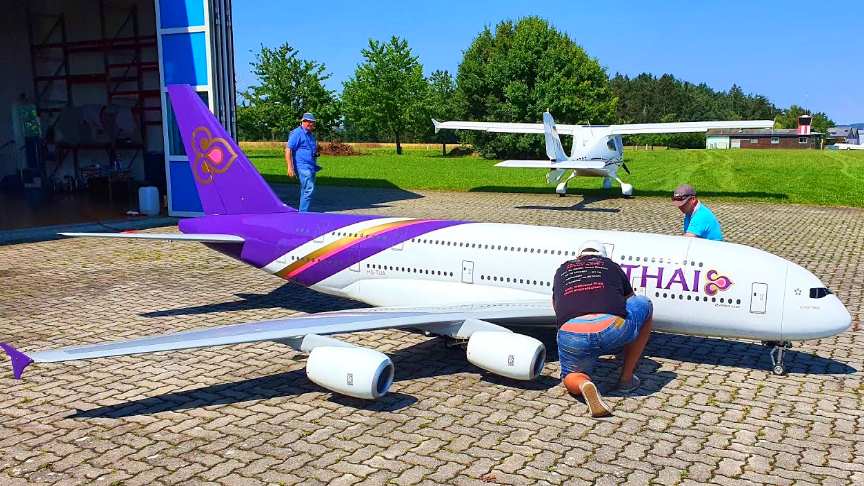 source/image(PrtSc): RCScaleAirplanes
Second flight for the technical acceptance of an A380 from THAI Airways in 1/13 scale. Unfortunately it was not possible to repair the landing gear fault in the short time between the two flights. That's why the gear stayed extended.///via: RCScaleAirplanes
With a span of 6.13m the airliner is 5.60 m feet long and weighs 226 pounds. The fuel capaticy is 12 liters, stored in CMJETS fuel tanks. The retractable landing gears are Electron with homemade struts and trucks.
Advertisement
Christopher uses a Futaba T18MZ transmitter with dual Futaba 7008SB receivers and KST servos; (2 x Aileron, 2 x Elevator, 1 x Rudder, 4 x Landing flaps, 1 x Front gear steering, and 8 to operate all the gear doors.
Rainer Kamitz was at the sticks and did an impressive flight.
Builder and owner: Christopher Ferkl from Austria
Scale 1/13
Span: 6.13m / 20 feet
Length: 5.60 m / 18.5 feet
Weight: 102.7 kg / 226 pounds
Turbine: 4 x JetsMunt 166 … http://www.jets-munt.com/wp/m166xbl/
Fuel capaticy: 12 liters / 2.2 gallons (UK)
Fuel tanks from CMJETS
Landing gears: Electron with homemade gears
TX: Futaba T18MZ
RX: 2 x Futaba 7008SB
Servos: KST
2 x Aileron
2 x Elevator
1 x Rudder
4 x Landing flaps
1 x Front gear
8 x Gear doors
Electronic control unit: Powerbox Royal
Time to build 3 years / 1700 hours