The Eurocopter EC145 (now Airbus Helicopters H145) is a twin-engine light utility helicopter developed and manufactured by Eurocopter, which was rebranded as Airbus Helicopters in 2014. Originally referred to as the BK 117 C2, the EC145 is based upon the MBB/Kawasaki BK 117 C1.wikipedia.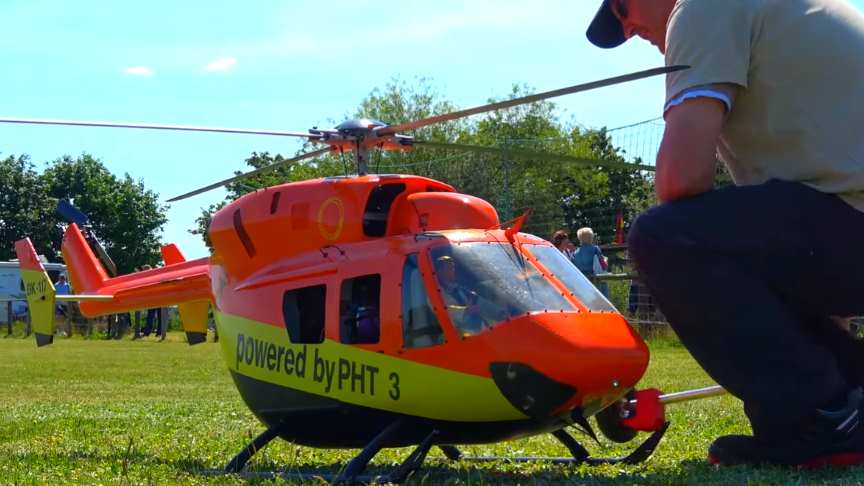 source/image(PrtSc): DIGITAL RC
The body of this rc helicopter is perfect originality down to the smallest details ,perfect material and processing quality in every respectits built with very high strength / rigidity of the GRP with low weight at the same time.
BK 117 4-blade with 2.3m rotor diameter fully equipped and ready to fly: powered by aTurbine PHT3 from JetCat with a 2.5 liter GRP tank system with Festo tank connection on the fuselage,4 servos swash plate,1 servo tail rotor and 2 tail rotor from XXL model helicopter with M Blade aluminum rotor blades, the take-off weight of the helicopter is app. 20 Kg.
Advertisement
The flight characteristics of the 4-blade helicopter can be described as very good-natured, supported by the latest rotor head stabilization system.Extras: cockpit extension with pilot seats and pilot manikin 1: 4, scale position lighting with high-voltage LED with two high-quality aluminum headlights, one of which is extendable. Sliding doors left and right with locking system.
Model: BK-117 (EC-145) from Vario
Rotor Diameter: app. 2.3 m
Take-off weight: app. 20 Kg
Scale: 1/4
Engine: Turbine JetCat PHT3
Event: Ragow Modellflugtag 2019, Germany