This is the Goose all in one motorcycle tent. It includes canvas tent, poles, foam mattress, sleeping bag & picnic blanket. Everything you need for a good nights sleep in one compact package.The "Goose" consists of a canvas tent, thick foam mattress and sleeping bag. You wrap the whole system up in the cover that doubles up as a blanket to sit on when not in use.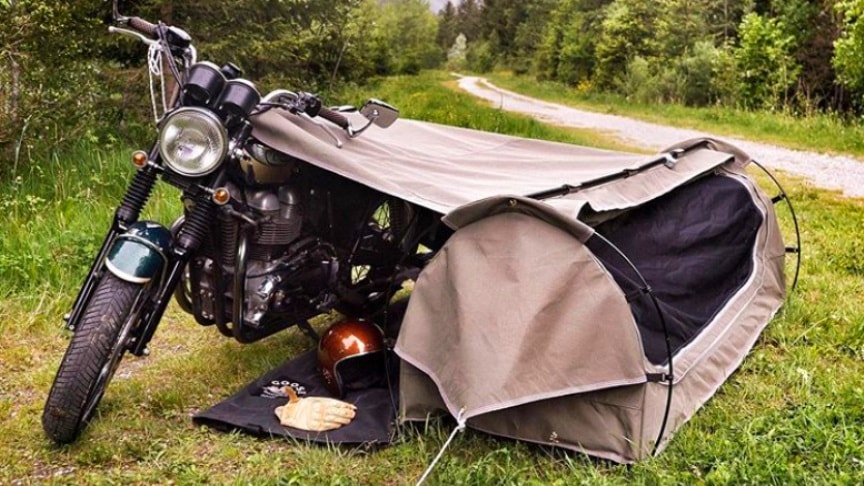 source/image: Wingman Of The Road
The tent cover made from the waterproof and UV-resistant coated ripstop camping material. It also features PVC flooring, a sleeping bag and a mattress. This bike tent rolls up into an portable package for an easy transportation. Simply attach the tent on back of your bike and carry around this portable tent wherever you go.
The Goose is made up of a central sleeping chamber with a verandah awning on one side that attaches to your bike – this allows you to store your gear out of the weather. Both sides of the tent have full length doors with fly screens, and inside you'll find a heavy duty PVC floor, a foam mattress/sleeping bag, and a small pocket on the wall for storing items like phones, wallets, watches, etc.
Advertisement
The tent is made of waterproofed 420 gram ripstop canvas and it comes with a cover made from the same material that doubles as a floor for the verandah area. Guy ropes, poles, and tent pegs are all included, when you pack the tent up they're placed in the middle and rolled up for safe keeping.