In 2016/17 the bike has been restored. This bike comes with all records and invoices of engine and gearbox overhaul, pics of condition prior the restoration and a dating certificate. The paintwork needs some attention. This bike is modified to a 12V system and is a good runner.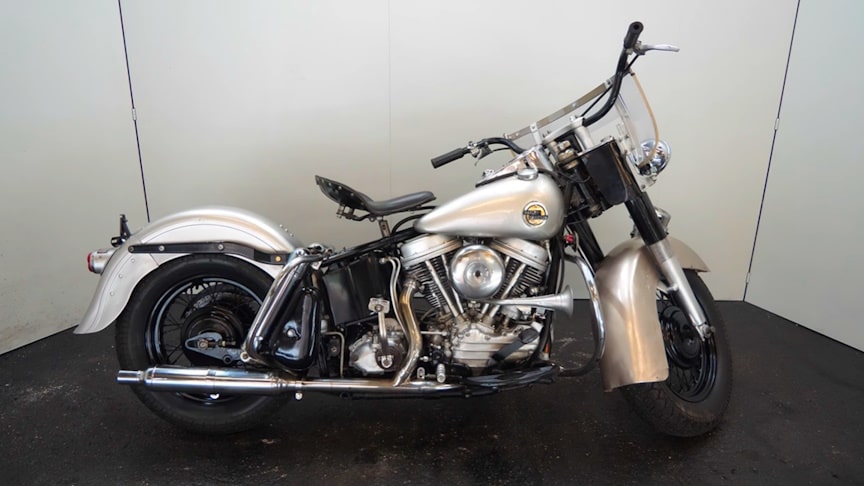 source.image: classic-motorcycle.com
By the late 1940s the 'Knucklehead' – Harley-Davidson's first overhead-valve twin-cylinder roadster – was beginning to show its age, prompting the Milwaukee firm to engage in a wholesale revision of the engine for 1948, the new top end giving rise to the unofficial nickname 'Panhead'.
While the engine's bottom end remained fundamentally unchanged, the top end gained aluminum cylinder heads and those distinctive pan-shaped rocker covers. Oil lines were internalized and hydraulic valve lifters adopted, an innovation that greatly reduced tappet noise and simplified maintenance. Maximum power went up to 50hp in the 1200cc in FL model, but the main advantage of the many improvements was greater reliability.
Advertisement
The Panhead featured a new 'wishbone' frame incorporating bowed front down-tubes, and in 1949 gained a hydraulically damped telescopic front fork, becoming the 'Hydra-Glide', though this name was originally applied only to the fork and did not become an official model title until 1952. The advent of rear suspension in 1958 saw the Panhead renamed 'Duo-Glide', while with the addition of an electric starter in 1965 it became the 'Electra Glide'.