The "Scooter", an unusual custom 4-wheeler powered by a Sportster Ironhead 1000 cc engine, with the body of a Harley Davidson sidecar.Build by Emporium Garage Italy.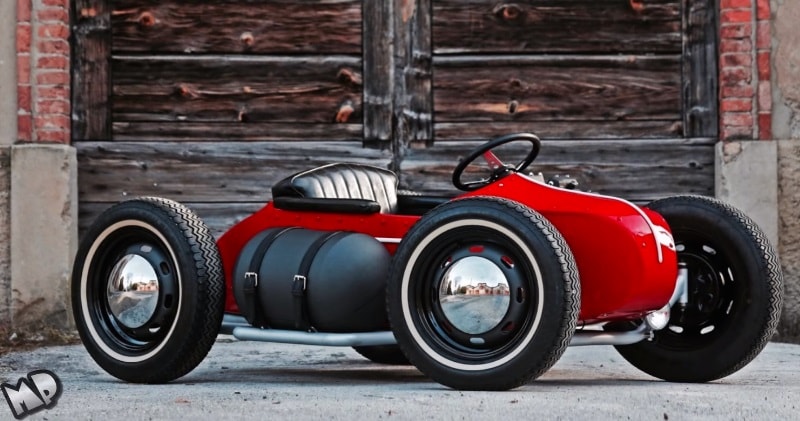 source/image: My Passions
The block is a HD Ironhead 1975, the wheels come from an old beetle and are equipped with bias tires. The bodywork was made by Davide Aresi and AD Kustom Furniture,while leather work inside was done by Pach Production.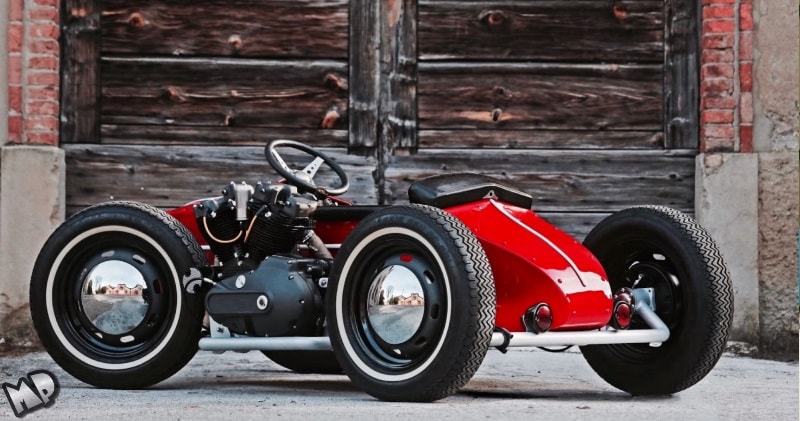 source/image: My Passions
The paint job is by Domingo and Paolo from the Cielle Art Factory.It's a good idea to place the tank and battery in a separate small tank on the side.
Advertisement
Stylish and safe. The scooter has the usual clutch, gas and brake pedals and a manual transmission.Powered by Two-cylinder Sportster Ironhead 1,000 cc, "tank" of a sidecar of the 50s, VW Beetle wheels (the transmission is chain only on the rear left) and a multitude of special components made to measure.
A Harley-Davidson-based special is not new. But this is different, an almost unprecedented project: a very original sidecar with an extra wheel and a 1,000 cc Sportster Ironhead engine. The eccentric "Auto-Scooter" kart is signed Emporium Garage and was born to take part in the AMD World Championship.