Solar water heating (SWH) is the conversion of sunlight into heat for water heating using a solar thermal collector. A variety of configurations is available on the market, but you can also build one by yourself.This video includes full instructions on how to build it (w/materials list). super hot water fast. Reaches temps at or above 150F with air temps from high 40's to low 50's. A few features of the panel: full 1/2″ hard copper pipe (type L). hooks to a standard water tap/garden hose.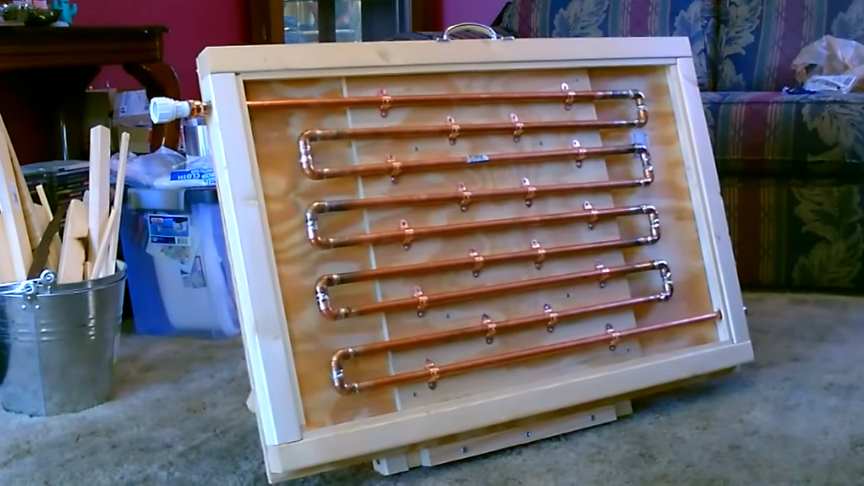 source/image(PrtSc): desertsun02
Slim portable design (at only 2″ thick) and is very rugged and durable (built with 2×2's and 1/2″ plywood). Multiple panels can be hooked together for additional capacity and extras can be easily added; water flow valves, temp sensors, timers etc… Couple of final thoughts, make sure to use type L copper (rated 0-400F 986psi). Other choice is type M (only rated 100-150F) and will not hold up to temperature extremes.
The smaller "internal board" is very important to the design – for a few reasons. 1.) it allows for the pipe to lay essentially flat inside of collector (because all the connection points are up in the air). It holds the pipe at the right height so it enters and exits thru the 3/4″ hole in the 2×2. 3.)
Advertisement
It allows for the pipe to easily be removed from the collector (if extra work needs to be done on any of the solder joints – re-solder etc.) btw if you've never soldered pipe before – it's very easy to learn. Lastly, to secure the glass into the frame, just use a bead of silicone caulk around the edge and drop the glass in.///desertsun02