Horridus is the world's most complete and most finely preserved Triceratops. The Triceratops fossil was discovered on private land in Montana in 2014.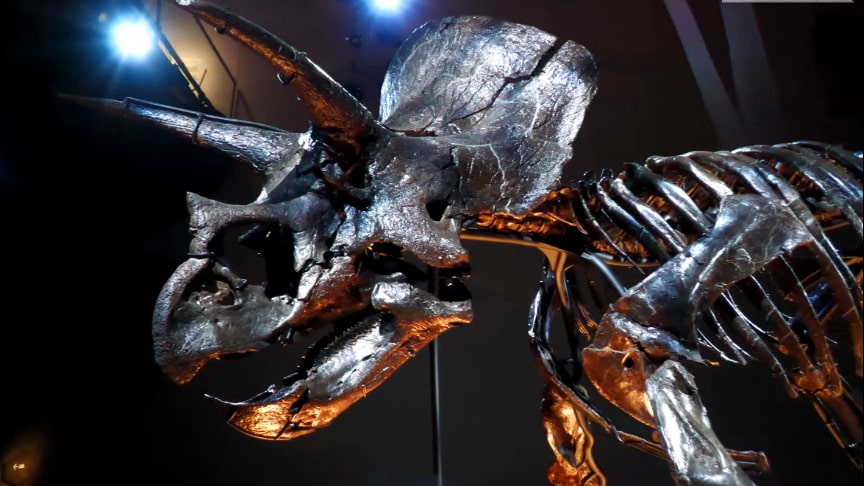 source/image(PrtSc): Wonder World
The Triceratops skeleton is nearly 85% complete, standing about 2.5 meters (8 feet) tall, 7 meters (23 feet) long, weighing 1,000 kilograms (2,205 pounds) and is made up of 266 bones.Watch the video from Wonder World:
The skull is 98% complete and is tipped with two slender horns at the brow and a stubby horn atop the nose, the flat neck frill spans 4.9 feet (1.5 m), and the skull weighs about 575 pounds (261 kg).
Advertisement
HORRIDUS FACTS
♦ Nicknamed "Horridus" after the species name (Triceratops Horridus)
♦ 266 bones have been recovered, making up 85 per cent of the skeleton.
♦ The skull of the fossil is 99 per cent complete and weighs 261kg.
♦ Horridus has an enormous frill and three fearsome horns.
♦ Weighing 6000–12,000kg when alive, Horridus is larger than a full-grown African elephant.
♦ Horridus roamed the Earth during the late Cretaceous period, around 66-68 million years ago.
♦ The fossil weighs more than 1000kg or a tonne, is 6-7m long and stands about 2m tall.
The fully assembled skeleton is now on permanent display, at the Melbourne Museum in Australia./Wonder World