The Horten H.IX, RLM designation Ho 229 was a German prototype fighter/bomber initially designed by Reimar and Walter Horten to be built by Gothaer Waggonfabrik late in World War II. It was the first flying wing to be powered by jet engines.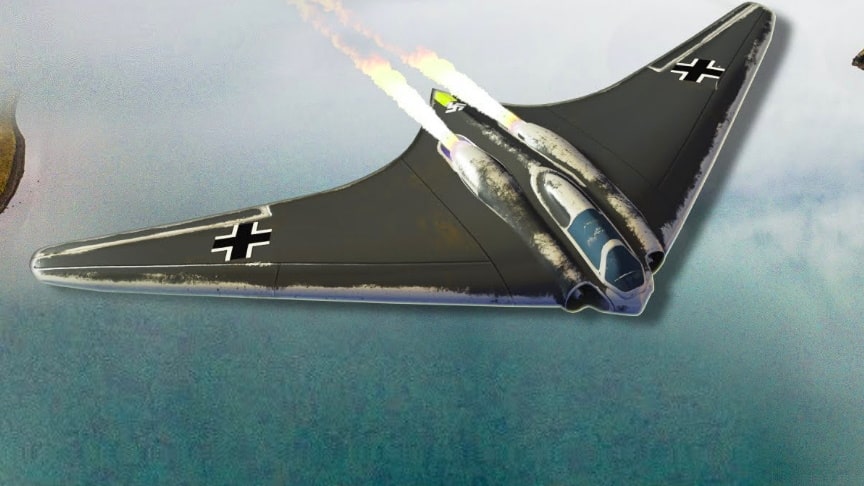 source/image(PrtSc): Found And Explained
The Horten Ho 299 was a sleek number, measuring 7.4 metres or 24 feet 3 inches in length at its centre-line, with a total wingspan of 16.8 metres or 55 feet 1 inch.The Horten Ho's cockpit height was a decidedly low 1.1 metres or just 3 feet 7 inches, although it overall height was 2.81 metres or 9 feet 3 inches.
The design was a response to Hermann Göring's call for light bomber designs capable of meeting the "3×1000" requirement; namely, to carry 1,000 kilograms (2,200 lb) of bombs a distance of 1,000 kilometres (620 mi) with a speed of 1,000 kilometres per hour (620 mph). Only jets could provide the speed, but these were extremely fuel-hungry, so considerable effort had to be made to meet the range requirement.
Advertisement
That allowed for performance outputs of a maximum speed of 960 kilometres or 600 miles per hour or Mach 0.77 at sea level, whilst having an acceleration speed of up to 977 kilometres or 600 miles per hour or Mach92 at an altitude of 12,000 metres or 39,000 feet.Its cruise speed was 900 kilometres or 560 miles per hour./Found And Explained