The circuit breaker is an absolutely essential device in the modern world, and one of the most important safety mechanisms in your home. Whenever electrical wiring in a building has too much current flowing through it, these simple machines cut the power until somebody can fix the problem..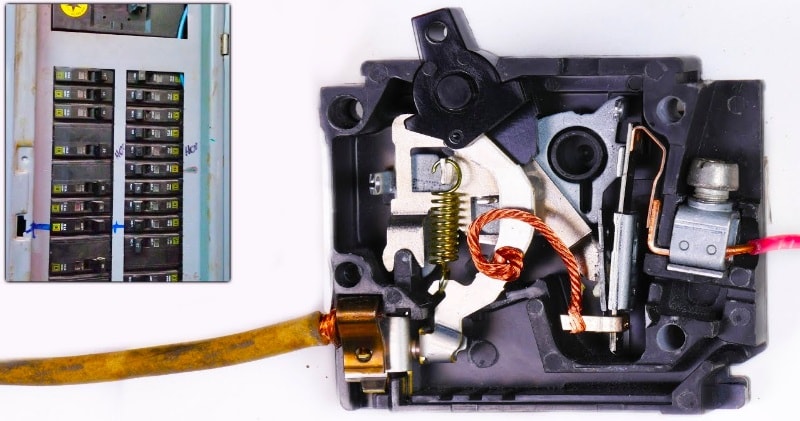 source/image: Warped Perception 
If you've ever wondered how that pesky circuit breaker Works inside when your lights turn off, then this is the episode you need to watch. I open up a household circuit breaker and replicate a couple very common household fault scenarios, I film it with the high-speed cameras to reveal exactly what's going on inside that circuit breaker.
If the current flowing lies within a safe operating range, the electromagnet will not energize and the metallic lever whose one end is attached to the electromagnet and the other to the fixed contact which is further attached to the next path of the circuit, maintains its contact and the current easily flows through the circuit breaker to the external circuitry.
Advertisement
In case the current exceeds the safe operating range and becomes very large due to some fault in the circuit, the electromagnet will get energized and this energy will be sufficient enough to break the contact of the metallic strip from the fixed contact which is attached to the external circuit.In this way the circuit opens from this point and immediately the current path faces an infinite amount of resistance and is unable to flow ahead.When the current decreases back, the electromagnet is de energized and the contact is maintained again and the circuit operations safely.