In this video, Milo shows how you can make a silicone mold of a steering wheel to create an aftermarket part. Using a silicone mold allows you to make a unique, custom steering wheel.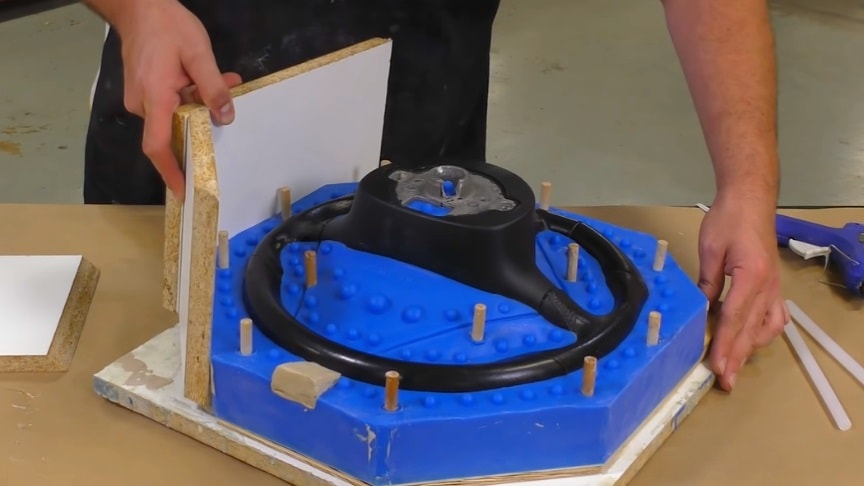 source/image(PrtSc): Smooth-On
Milo uses Mold Star™ 30 to create this 2 piece mold. Mold Star™ mold rubbers are easy to use platinum silicones which are mixed 1A:1B by volume (no weighing scale necessary). Mold Star™ silicones feature relatively low viscosities and vacuum degassing is not required for most applications. Mold Star™ 30 is a harder material, with a 30A Shore hardness. Watch the first part of the video:
Milo shows how he casts a Crystal Clear urethane resin steering wheel in this tutorial video. The metal insert is sandblasted and inserted into the silicone mold, and Crystal Clear urethane resin is poured, encapsulating the insert.
Advertisement
Crystal Clear™ Series resins are water white clear and made specifically for applications that require absolute clarity. Watch the second part of the video:
These rigid urethane casting resins differ only in working and demold times. Crystal Clear™ products cure at room temperature with negligible shrinkage. Cured castings are UV Resistant and are not brittle. Vibrant colors and color effects are achieved by adding SO‑Strong™ color tints.