I'm not saying this as a disclaimer, well maybe, but I really think the success of this project was largely in part from the advice from our local beekeeping community. I looked up the group on Facebook and the leader, Richie, came out to check on our bee situation. A lot of people have a general fear of bees, but I didn't want to unnecessarily harm the creatures in any way.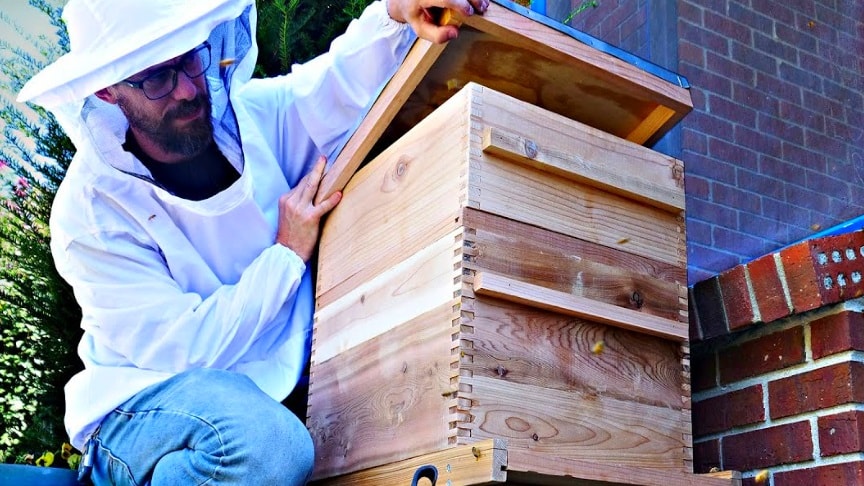 source/image: I Like To Make Stuff
Richie suggested that we remove the wall panel and carefully remove any honey comb that the bess had made and transfer them to a Langstroth Beehive. There are many beehive designs, but the Langstroth is very versatile and can grow as the colony grows.Watch the video from I Like To Make Stuff for more info:
If you aren't familiar with beehives, let me fill you in, specifically the Langstroth hive. It is a system of boxes, some deep and some shallow, that stack on top of each other. The bees brood, or incubate and hatch new bees, in the deeper, lower boxes while the workers bees store honey in the shallower, upper boxes. There is a base with a landing pad and two separate lids that cap the whole hive.
Advertisement
To make the frames, I cut the top and bottom rails from more cedar lumber and Josh used the laser cutter to make the outside vertical supports. These vertical supports needed to be cut with the specific spacing added to each side. When two frames are placed next to each other, it needs to be no less than 3/8″. After a long batching process using jigs, glue, and brad nails, we had enough uprights to complete all of the frames for each box. To help support any existing honeycomb, I ran some fishing line along the frame./via/read more: I Like To Make Stuff