The Hyundai N Vision 74 is a concept car developed by Hyundai. Based on the 1974 pony coupe unveiled at the Torino grand motor show in 1974. The sporty car was unveiled at N Day 2022, an event organized by the Hyundai N performance division in mid-July 2022 at Busan, South Korea, alongside the Hyundai RN22e concept based on the Hyundai Ioniq 6 electric vehicle.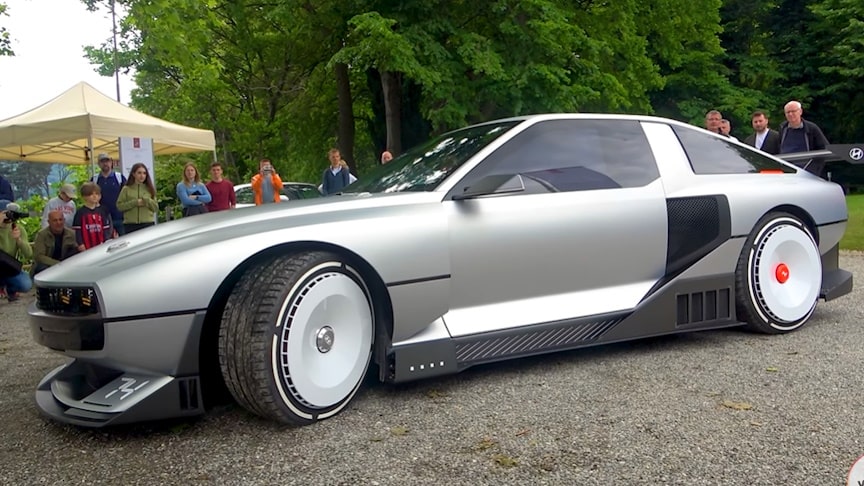 source.image: Varryx
The N Vision 74 is a rear-wheel-drive coupe driven by two electric traction motors, both on the rear axle; power is provided by both a storage battery and a hydrogen fuel cell.The styling of the N Vision 74 has been praised as blending inspiration from the Lancia 037 and DMC DeLorean with the "Parametric Pixel" design language from the Ioniq family
The N Vision 74 is equipped with dual electric traction motors both fitted to the rear axle with a combined output of 670 hp (500 kW) and 664 lb⋅ft of torque, drawing from a 62.4 kW-hr battery pack and hydrogen tanks storing 4.2 kg for an on-board fuel cell.Peak fuel cell output is 114 hp.
Advertisement
Driving each rear wheel with its own traction motor allows torque vectoring.Hyundai engineers are considering adding a third electric traction motor to the front axle.Hyundai claims the car can accelerate to 60 mph in four seconds[14] and has a range (including use of the fuel cell as a range-extending auxiliary power unit) of more than 372 mi under the WLTP cycle.Top speed is more than 250 km/h.