This episode covers the record attempt element of The World's Fastest Tractor project – JCB's Guinness World Records Fastrac #JCBWFTBoth JCB's record-breaking achievements took place at Elvington Airfield near York, England.,the modified tractor set a world record of 135.191 mph.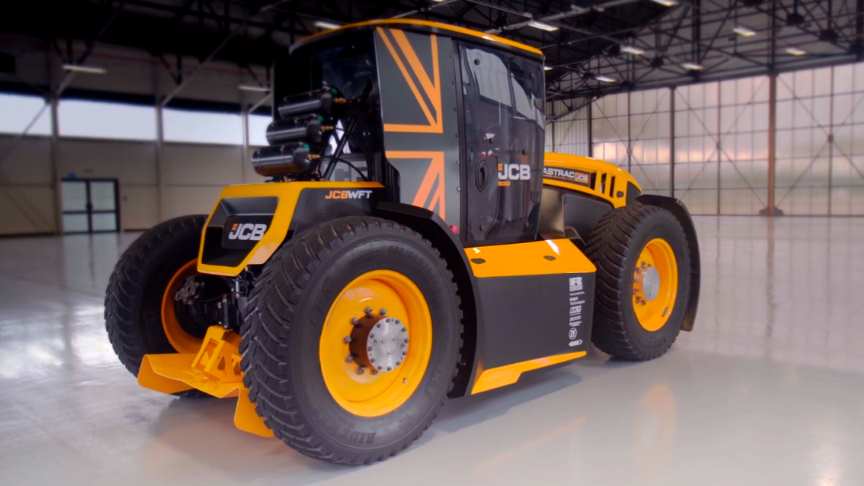 source/image(PrtSc): JCBmachines
Not only that, the Fastrac Two was clocked at a peak speed of 153.771 mph The airfield was originally used by the RAF during WW2 and has a runway measuring 1.92 miles, one of the longest in Britain. Consequently, it has proved a popular location for speed tests and has a history of record-breaking attempts.
Fastrac Two had more horsepower using JCB's 7.2 litre, Dieselmax engine produced at the JCB Power Systems factory in Derbyshire. It was also 10% lighter and even more streamlined with improved aerodynamics, but still used over 50% of standard Fastrac parts.We Increased the power of the Fastrac's 6 cylinder, 284hp engine by fitting a JCB 672 engine with over 1,016hp and over 2,500Nm of torque, creating the extra performance we needed.
Advertisement
This episode covers the 'weight' element of the project to build The World's Fastest Tractor – JCB's Guinness World Records Fastrac #JCBWFT.
We needed to reduce the standard weight of a Fastrac from over 8.5t to around 5t; the equivalent of a mini and a range rover combined.
– It was made 3500kg lighter using aluminium panels instead of steel, GRP and carbon fibre bodywork
– The chassis was lightened from 750kg to 480kg
– We built a lighter suspension, used aluminium axle covers and removed the hub reduction gears
– Lithium batteries were a lighter choice