This model engine in this video is ENJOMOR V8 78CC GS-V8 Working Scale Model Engine Gas DOHC 4 Stroke Water-cooled.It Features the DOHC valve mechanism, exposed timing belt and perfect size & appearance for a high level of performance for extraordinary power.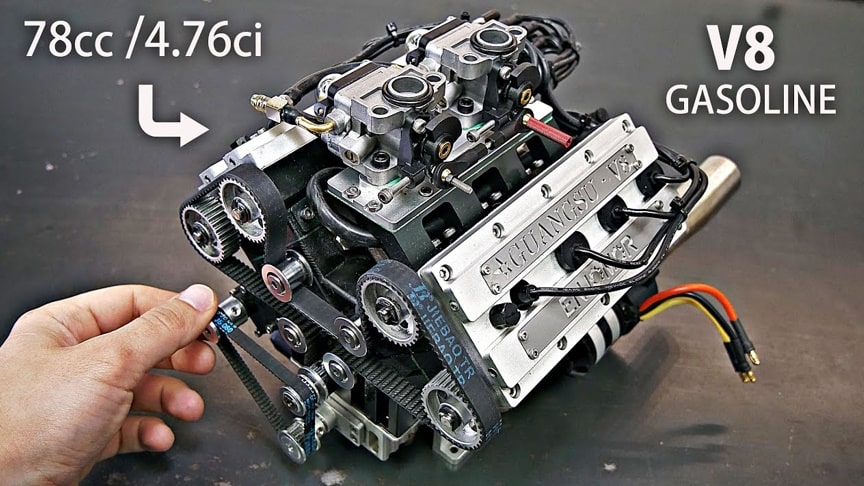 ndependent Lubrication System: The oil pump pumps recyclable oil to the top CAM of the engine for lubrication.The side water-cooling pump provides effective heat dissipation, which helps extend the working time and service life of the engine.
Designed with the hall-type CDI pulse split ignition and 3548 brushless starter motor, the engine boasts one-key operation for added convenience.With the housing made of full aluminum CNC in precision manufacturing, the engine boasts the realistic appearance, integrated exhaust manifold and true engine sound.Adopts three piston rings (gas ring, taper ring&oil ring) and another oil ring made in 32 processes to ensure the compression force in the cylinder for higher combustion efficiency.
Advertisement
Comes with the super hard piston cylinder liner and one-piece crankshaft with full bearing support (three big bearings in the middle, small bearings at both ends) for outstanding strength and durability.Designed for a wide range of applications, the engine can be used to refit large-scale model cars, boats, and tanks, and is also suitable as a desktop DIY engine model to play.