This comes with a water cooling channel, but the external water-cooled pipe and the external water pump need to be purchased separately, or in this case JohnnyQ90 shows us how he makes a watercooling system (Radiator/ Pump) for his Toyan FS S100G 4 Stroke Engine.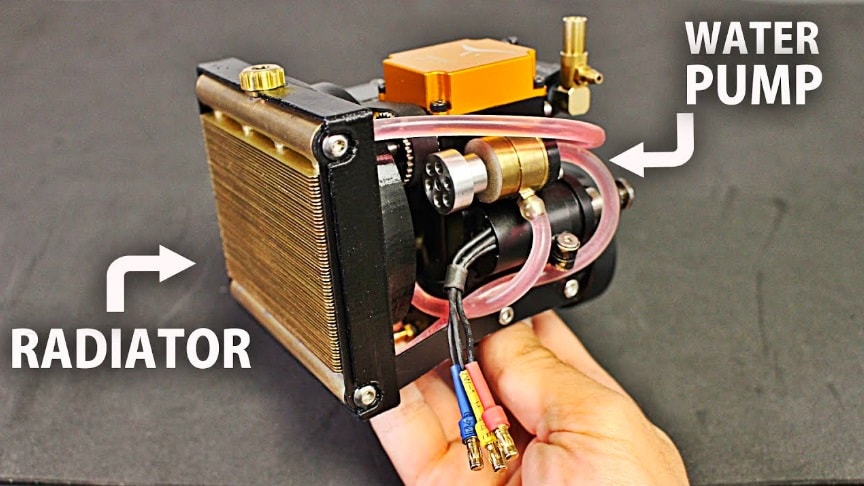 source/image: JohnnyQ90
The engineis suitable for 1:10, 1:12, 1:14 scale model cars or model ships and other equipment, also can be used for classroom display.The engine uses methanol as fuel. After JohnnyQ90 builds and installs the cooling radiatior the engine temperature stays around 92-93°. The video starts at the end where the project is completed, you can start it from the begining to watch the entire build.
A four stroke engine produces a lot of heat when it is running, and must be cooled continuously to avoid engine damage.This is done by circulating coolant liquid usually water mixed with an antifreeze through special cooling passages.
Advertisement
A pump , driven by a pulley and belt from the crankshaft , drives hot coolant out of the engine to the radiator , which is a form of heat exchanger .Unwanted heat is passed from the radiator into the air stream, and the cooled liquid then returns to an inlet at the bottom of the block and flows back into the channels again.
Engine Specifications
Engine Dimensions: 100.5 x 85.4 x 86.5mm
Cylinder Bore: 17.0mm
Piston Diameter: 16.6mm
Displacement: 3.5cc
Output Power: 0.5ps Horsepower
Speed: 2500-13500rpm