What do you do when your car salesman is an alien?! The Men In Black and our hidden cameras find out at the #Lexus Dealership in Thousand Oaks.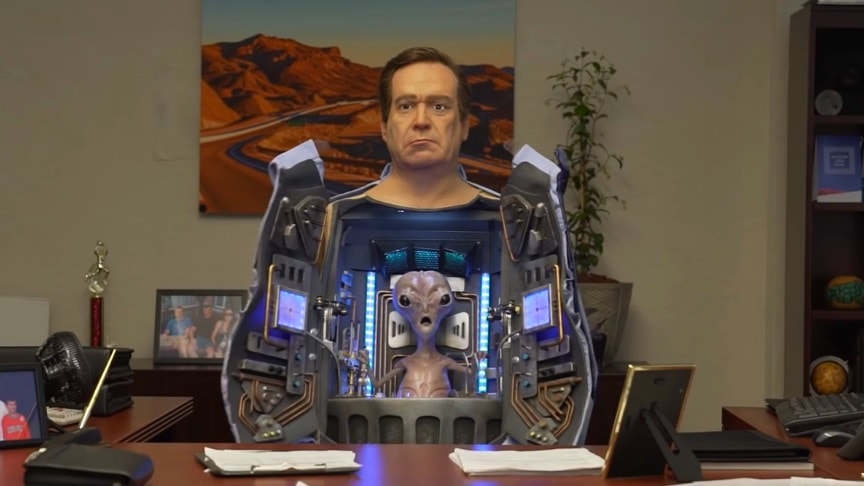 source/image(PrtSc): Sony Pictures Entertainment
The Men in Black have always protected the Earth from the scum of the universe. In this new adventure, they tackle their biggest, most global threat to date: a mole in the Men in Black organization.
As we can see by the video, they did one heck of a job re-creating the salesman's face and surprising people with a distressed alien.
Advertisement
Of course like the classic Will Smith theme goes "what you think you saw you did not see", Men In Black agents arrive to wipe the memory. Overall I thought it was done well.Directed by: F. Gary Gray,Written by: Art Marcum & Matt Holloway.Based on the Malibu Comic by: Lowell Cunningham
Produced by:
Walter F. Parkes and Laurie MacDonald
Executive Producers:
Steven Spielberg
Edward Cheng
Howard Chen
E. Bennett Walsh
Riyoko Tanaka
David Beaubaire
Barry Sonnenfeld
Cast:
Chris Hemsworth
Tessa Thompson
Kumail Nanjiani
Rebecca Ferguson
Rafe Spall
Laurent Bourgeois
Larry Bourgeois
with Emma Thompson
and Liam Neeson