After a unique collaboration with Numbnut Motorcycles, the custom builders of the Netherlands and one of the most renowned sign painters in the world, who have made a unique Vanguard custom V8 helmet, the Moto Guzzi V8 is ready for a first test drive!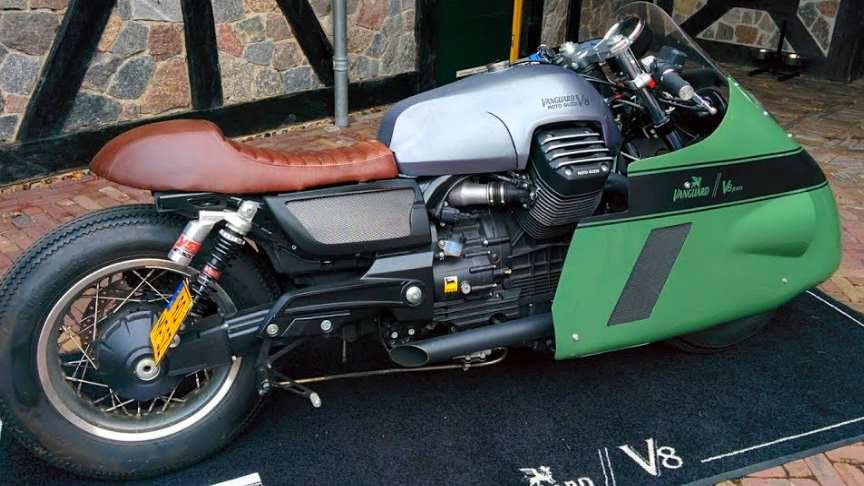 source: Vanguard Clothing /image: Toddmania1856
The motor makes you feel like you're in a roller coaster. The speed and control that the engine offers gives you the adrenaline you expect from a motorcycle ride. The beautiful front cockpit in combination with the sound of the machine are the biggest highlights.
A unique piece of experience. You can also find this unique Vanguard V8 Racer jeans, which is inspired by the legendary Moto Guzzi V8 from the 50s! The exclusive V8 Racer Jeans was launched in early August and available through the local Vanguard dealer and online.
Advertisement
A modern Moto Guzzi was taken, stripped back, and then the process of fabricating a bespoke dustbin fairing began in earnest.The Vanguard bike is a V8 in name only. It's basically a custom Guzzi California Eldorado shaft-drive cruiser, and instead of a finicky 500cc V8, it uses the stock 1,400cc v-twin.
Once the fairing was painted and fitted to the frame, a leather seat was fitted, along with adjustable rear shock absorbers, a matching pair of Firestone Deluxe Champion tires, and a heavily modified fuel tank.The completed bike is a tasteful, modern interpretation of the iconic Moto Guzzi V8.