The 2 and 4 door Ford Bronco SUV's patented off-road modular design offers a user-friendly platform that can be stripped to its base structure so that alternate doors, fenders and grille can be added in one afternoon. The following day, a whole new Bronco SUV can be reconfigured for another new adventure with a different body and roof setup.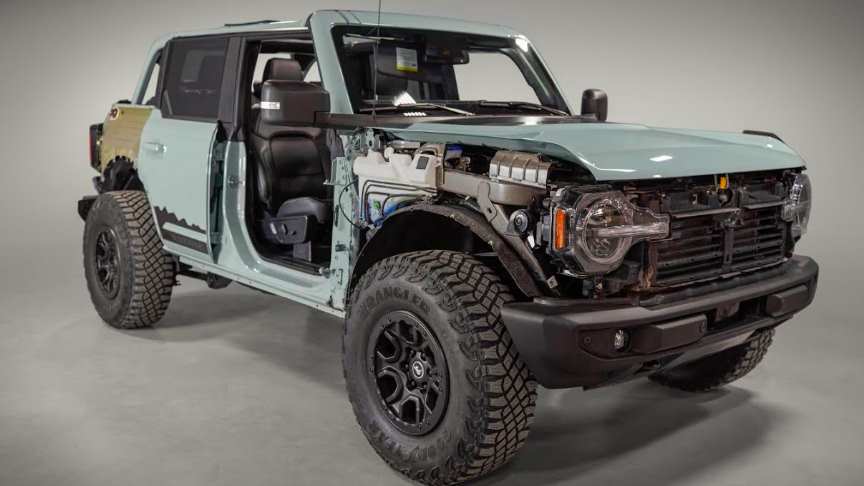 source/image(PrtSc): REC Anything
The Bronco two- and four-door SUVs were designed and engineered from a clean slate to make off-road customization easy, quick and attainable for all enthusiasts with a wide variety of interests and skill levels.Basic modifications to prep a Bronco for a fun-filled open-air afternoon can be completed in a matter of minutes by hand.
Available modular roof panels can be removed by one person using simple latches. Available modular rear quarter windows can be removed with minimal effort, simply by releasing a latch for each window, while two people can remove the rear hardtop assembly after removing a few fasteners. Easy-to-use quarter-turn fasteners make removing four fender flares possible in just a few minutes each.
Advertisement
Bronco logos stamped on the body and interior fasteners indicate removeable modular components such as frameless doors, fenders, bumpers, grille and grab handles. Unlike competitive SUVs, both front and rear fenders can be removed by simply taking out the bolts – and can be replaced just the same without welding or other complicated means./REC Anything