This is the brand new Lamborghini Huracan Sterrato! Let's take an exclusive first look at the off-road, rally going, super sports car during the global unveiling and introduction at Art Basel Miami. Limited to 1,499 cars, it features a V10 plus off-road tyres, rally lights and more!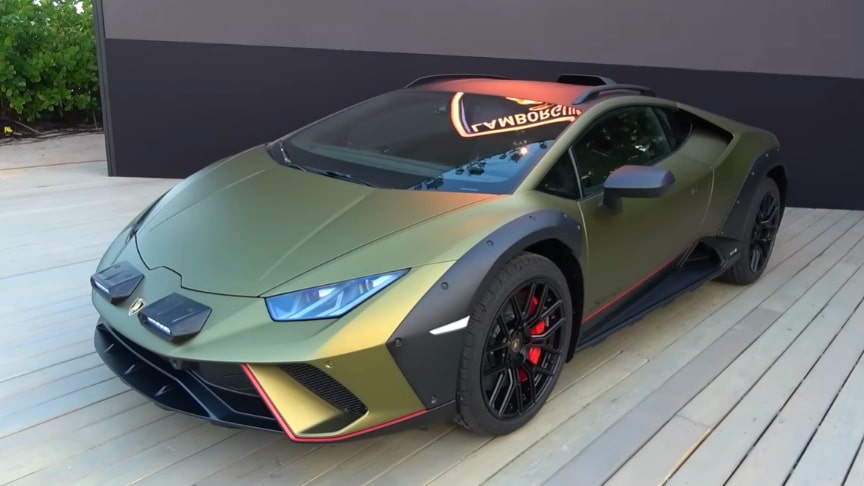 image: Shmee150
Lamborghini first teased a concept Sterrato approximately 3.5 years prior, and while it was never slated for production, it certainly captured the attention of interested customers and hence the idea was born to set it into motion. While it's been no secret in the build up with numerous teasers and test cars, this is now the finished product in all of its glory and set to go into full production.
Based on the Lamborghini Huracan EVO platform, it's powered by the familiar 5.2l NA V10 making 610hp and 565Nm; enough to propel it to 100km/h (62mph) in 3.4s and from a standstill to 200km/h (124mph) in 9.8 seconds, before going on to a limited top speed of 260km/h (160mph). Naturally it has a permanent all wheel drive set up and maintains the 7 speed dual clutch gearbox, putting the power to the ground via 19″ wheels fitted with Bridgestone Dueler AT002 All Terrain run-flat tyres.
Advertisement
The body is now, and sits noticeably taller and wider; in fact 44mm higher than standard, with a 30mm wider front track and 34mm at the rear. Adorning the bodywork are rally lights at the front, riveted arches front and back, and a functional roof scoop between the fixed roof rails.