This is the Novitec 812 GTS N-Largo, one of the wildest supercars ever! Limited to just 18 units, the N-Largo is wider, meaner, louder and absolutely bonkers. Let's check out the modifications, go for a first drive, and experience the best sounding V12 ever!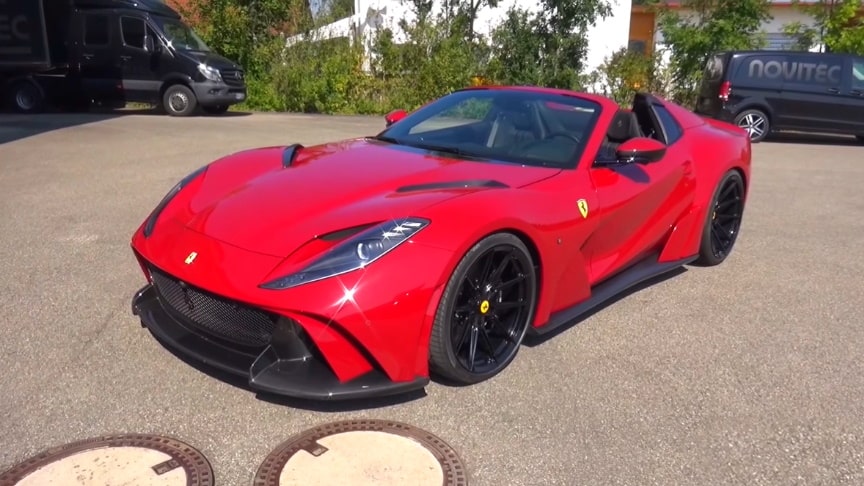 source/image(PrtSc): Shmee150
Novitec's famous N-Largo packages transform the cars with a very distinct style, in this case to the Ferrari 812 GTS; the convertible version of the 812 Superfast. Having released the limited run of 18 units of the 812 Superfast N-Largo, it makes sense now that the limited run of 18 units of the 812 GTS N-Largo follow suit. Video by Shmee150:
It wears a body that is 7cms wider at the front, and a whopping 14cms wider at the rear, consisting of new bumpers, fenders and more parts. It's riding on new springs and wearing large 21″/22″ wheels, and features a bespoke exhaust system to match the looks. With sports cats and a new set up, it allows the Ferrari's 6.5 litre NA V12 to absolutely scream away, with a shift sound unlike any other!
Advertisement
Not only that, but where the standard car would make 800PS and 718Nm, in this case it makes 840PS and 751Nm, helping it to have a 0-100km/h (62mph) time of 2.8s and a top speed of 345km/h (214mph)./Shmee150