Trained as an engineer, but with no construction experience, he educated himself on everything from plumbing to wiring to photovoltaic installation and spent the following year or so building his home inside the empty metal cab.Vaughn Dabney bought an old food delivery van for $9500 and spent $8000 in supplies to convert it into a fully custom home powered by solar.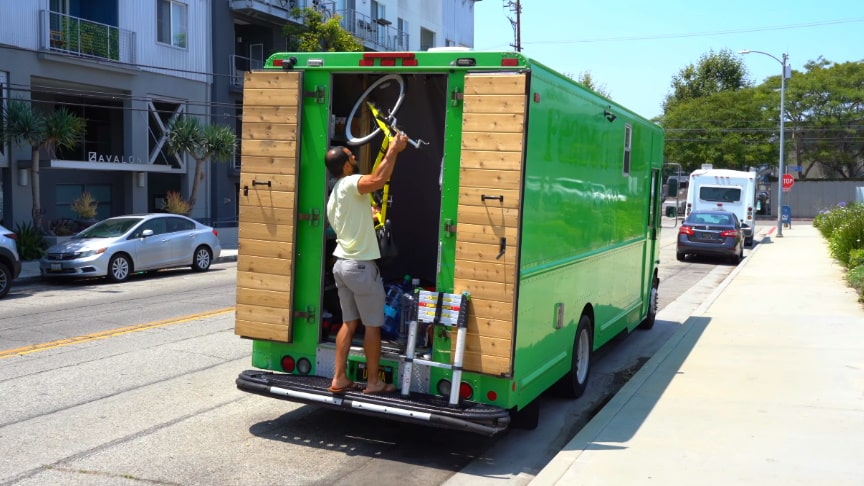 source/image(PrtSc): Kirsten Dirksen
He installed a sink, shower, dry flush toilet, dual-zone drawer refrigerator, bike garage, and projector screen, but it's the hyper-custom stuff that sets his build apart. He created his own Murphy bed using two forty-pound gas struts that he calls the fastest wall bed transform (his clocks in at 5 seconds, at a leisurely pace).
He only cut one small window in the side of the van (it keeps the place in stealth mode for better parking), but he added two skylights that he created in a couple of hours using a bit of Lexan (stronger than plexiglass) to provide light for his shower and living room.
Advertisement
Dabney appropriated locking shelf brackets to create an adjustable seat back for his sofa bench. To create a super-secure manual lock, he used the magnet holds you find in hospitals, mounting a 600-pound-force magnetic lock vertically on his door which can only be deactivated by a remote. The van had 250,000 miles on it when he bought it so he had to change the radiator, alternator, spark plugs and starter, all of which he did on his own./Kirsten Dirksen