The Porsche 959 is one of the most famous Porsche models of all time — and the 959 is one of the most famous cars from the 1980s. Today I'm reviewing the Porsche 959 to show you the details of one of the world's most amazing cars.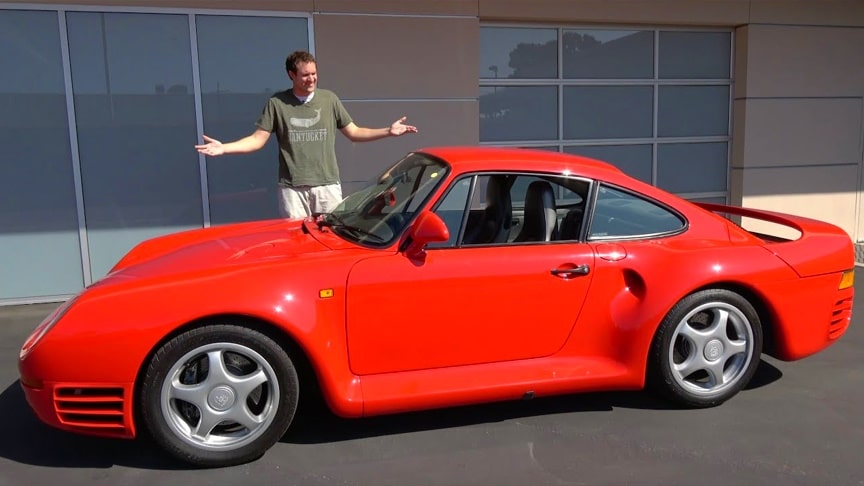 source/image(PrtSc): Doug DeMuro
The twin-turbocharged 959 was the world's fastest street-legal production car when introduced, achieving a top speed of 317 km/h (197 mph), with some variants even capable of achieving 339 km/h (211 mph). During its production run, the 959 was considered the most technologically advanced road-going sports car ever built, and forerunner of all forthcoming sports cars.
The powerplant is a sequential twin-turbocharged DOHC flat-six engine equipped with 4 valves per cylinder, fuel fed by Bosch Motronic 2.1 fuel injection with air-cooled cylinders and water-cooled heads, with a bore x stroke of 95 mm × 67 mm (3.74 in × 2.64 in) for a total displacement of 2,849 cc (173.9 cu in).
Advertisement
It was coupled to a unique manual transmission offering five forward speeds plus a "gelände" (terrain) off-road gear, as well as reverse. The engine was largely based on the 4-camshaft 24-valve powerplant used in the Porsche 956 and 962 race cars.To create a rugged, lightweight shell, Porsche adopted an aluminium and Aramid (Kevlar) composite for the body panels and chassis construction along with a Nomex floor, instead of the steel floor normally used on their production cars.