The B2 is the worlds most modern bomber aircraft. The Spirit, to use her NATO code name, has a unique shape which not only looks impressive but is also invisible to radar.Here we have a giant model Giant B-2 Spirit Stealth Turbine Jet.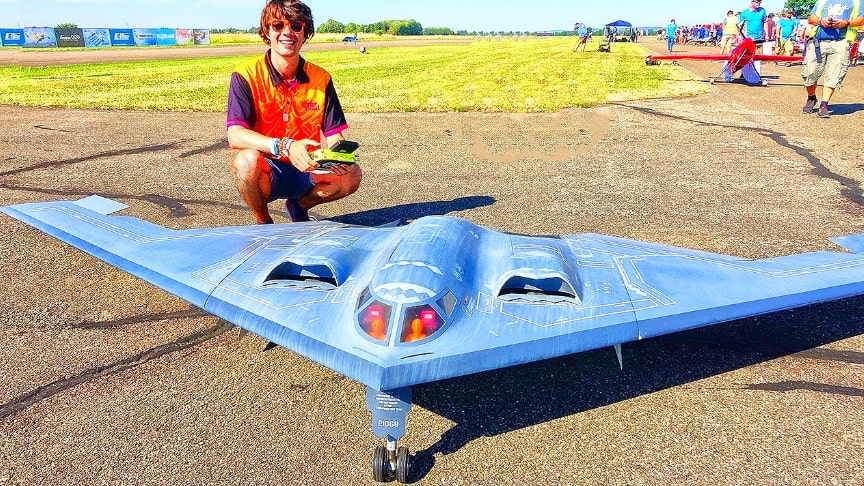 source/image(PrtSc): DIGITAL RC
Its impressive size of 4,35 m wing span is intriguing,the length of the airplane is 1,65m and the weight of the airplane is weight 24 kg, but its fin-less stealth shape make it appear small when sitting on the runway.For propulsion of the CARF-Models B-2 we recommend 2x 80-100 N engines, which in flight are only used at half power at most. The pilot of the airplane in this video is Marius Euteneier.
They are installed like in the real aircraft, very low and forward in the fuselage. A pair of specially designed, dual walled thrust tube connect to the slotted exits above the wings. The composite material behind the exits is covered by stainless sheet material allowing cooling air passing below to protect the composite structure against heat damage.
Advertisement
The center fuselage/wing has the tricycle landing gear, 2x 100 N sized engines and RC components installed. They are accessible through 3 large hatches and 3 large gear doors, all readily installed and hinged. The fuel system is installed through 2 large bomb bay doors on the bottom of the fuselage. The two wings slide onto 4 aluminum tube stubs and carry all flaps for elevator, aileron and rudder control.
Model: CARF B-2 Spirit (Stealth Bomber)
Pilot: Marius Euteneier
Wingspan: 4,35 m
Length: 1,65 m
Weight: 24 kg
Engine / Turbine: 2x 100 N
Event: Horizon Airmeet 2022, Genderkingen, Germany