I test out the 1st Real Miniature V8 DOHC gasoline engine that I think just might be worth the money.In this video I tested out and I tried to hit the maximum RPM, this miniature engine actually sounds pretty sick.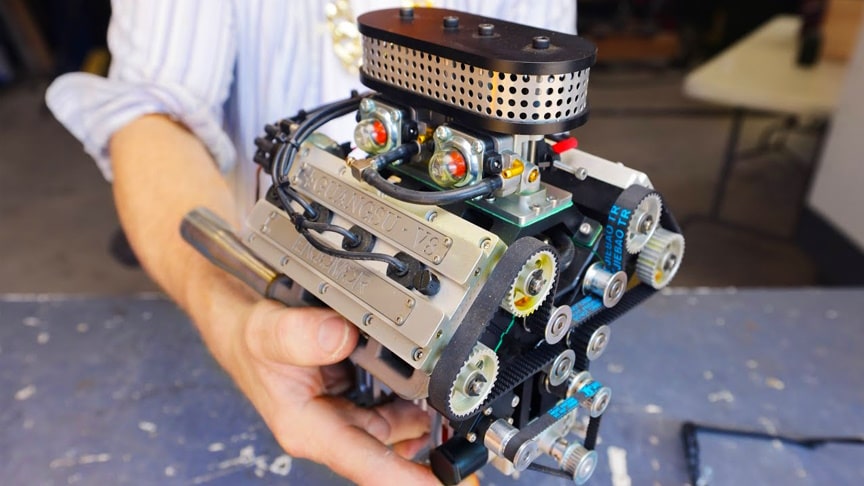 source.image: Warped Perception
The engine on this video is ENJOMOR V8 GS-V8 78CC DOHC Four-Stroke V-Shaped Eight-Cylinder Water-cooled Electric Gasoline Internal Combustion Engine Model.Features the DOHC valve mechanism, exposed timing belt and perfect size & appearance for a high level of performance for extraordinary power.
It has Independent Lubrication System: The oil pump pumps recyclable oil to the top CAM of the engine for lubrication.The side water-cooling pump provides effective heat dissipation, which helps extend the working time and service life of the engine.Designed with the hall-type CDI pulse split ignition and 3548 brushless starter motor, the engine boasts one-key operation for added convenience.
Advertisement
With the housing made of full aluminum CNC in precision manufacturing, the engine boasts the realistic appearance, integrated exhaust manifold and true engine sound.Adopts three piston rings (gas ring, taper ring&oil ring) and another oil ring made in 32 processes to ensure the compression force in the cylinder for higher combustion efficiency.
Parameters:
Material: Metal
Brand: ENJOMOR
Item NO.: GS-V8.
Status: Finished Version
Type: Gasoline Internal Combustion Engine
Valve: DOHC
Displacement: 78cc