RGNT x Crooked E-Type pushes the boundaries of EV design and customization.Swedish electric motorcycle manufacturer RGNT Motorcycles has joined forces with German custom bike builders Crooked Motorcycles. The result of this cross-pollination is the Crooked E-Type: a stylish, minimalistic, and 100% electric custom motorcycle.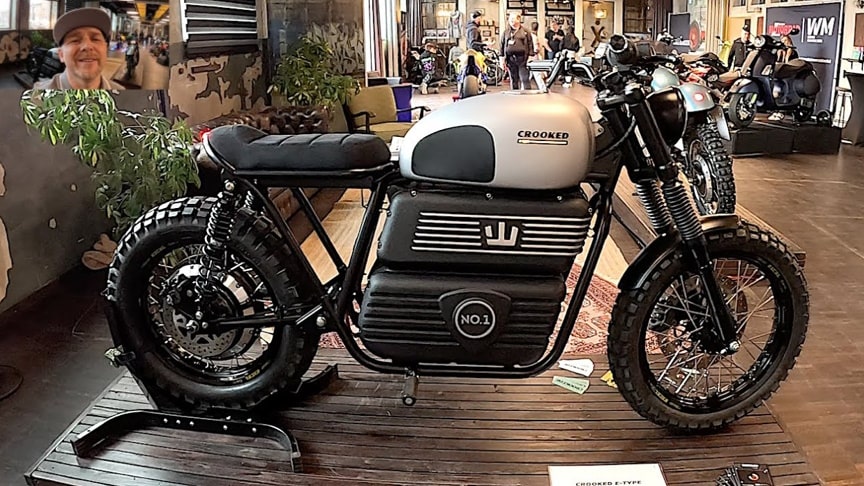 source-image: JARO SPEED
The E-Type will be presented at the Bike Shed London Show, coming weekend, and is now ready for serial production in the Crooked workshop near Munich.In the effort of simplifying the looks of the motorcycle, Crooked Motorcycles re-engineered the rear end of the RGNT No.1 Scrambler SE to hide much of the electronics while significantly shortening the seat.
This left Crooked's designers with the open triangle in the subframe that's so iconic in retro scramblers. As a result of the redesign, the rear end of the bike was also raised by 30 mm (1.18″).The most challenging aspect was stowing away the electrical modules to leave the exposed triangular frame section. The large TFT dash has also been removed in favour of a single analogue dial.
Advertisement
Since the drivetrain side of the electronics was untouched, it's expected that the RGNT x Crooked E-Type electric scrambler will have the same 120 km/h (~75 mph) top speed, 148 km (~92 miles) of range, and 21 kW (28.1 hp) peak power output as the stock RGNT No.1 Scrambler SE.