Bradford-born inventor Alfred Angas Scott's experiments with two-stroke motorcycle engines began in the closing years of the 19th Century, leading to the grant of a patent in 1904. Scott's original design for a vertical twin two-stroke engine incorporated the central flywheel with 180-degree overhung cranks and slim connecting rods that would characterize his products from then onwards.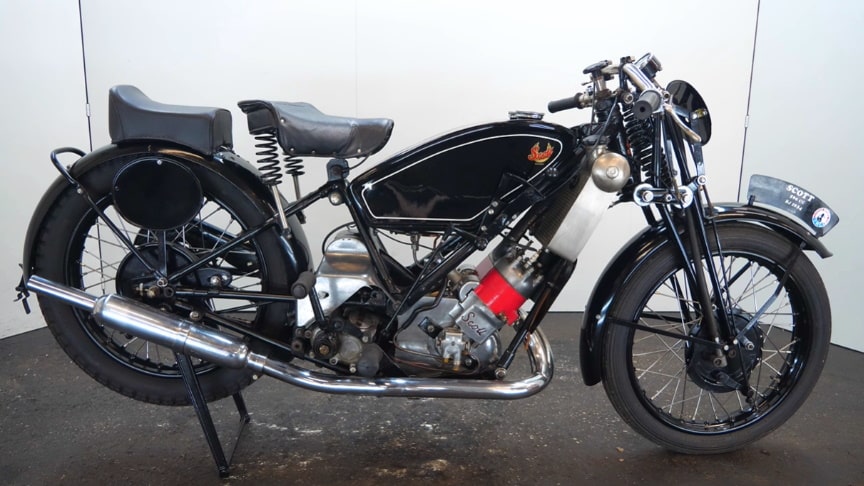 source/image(PrtSc): classic-motorcycle.com
One of its chief advantages was close spacing to the cylinder axes and main bearings, thus virtually eliminating the vibratory rocking couple hitherto associated with vertical twins. The first complete Scott motorcycle prototype followed in 1908, its twin-cylinder engine, two-speed foot-change gear and all-chain drive marking it out as an exceptionally advanced design for its day.
Like most of their rivals, Scott recognized the value of publicity gained from success on the racetrack – particularly at the Isle of Man TT – and first entered the latter event in 1909, becoming the first two-stroke to start in a Tourist Trophy race. Back-to-back victories in the 1912 and 1913 Senior events would turn out to be the highlights of the firm's TT record, though Harry Langman came close again in 1922 and 1924, finishing third and second respectively.
Advertisement
The 1924 works bikes had featured 'square' engines of 68.25mm bore/stroke, and this new 498cc unit became available in the Super Squirrel introduced later in the year together with a 74.6mm-bore 596cc version, which remained essentially unchanged until Scott production petered out in the 1960s, by which time the company had changed hands and relocated from Shipley to Birmingham.This well-designed power bike runs fine.//classic-motorcycle.com