A car enthusiast has completed his six-year project to turn his dream sports car into a 60mph sea-worth vehicle.The Sea Lion, as inventor Marc Witt calls it, is a completely bespoke car that can do 125mph on the roads – and then fly down the pier into the water and keep up a respectable speed as it sails past the yachts and boats.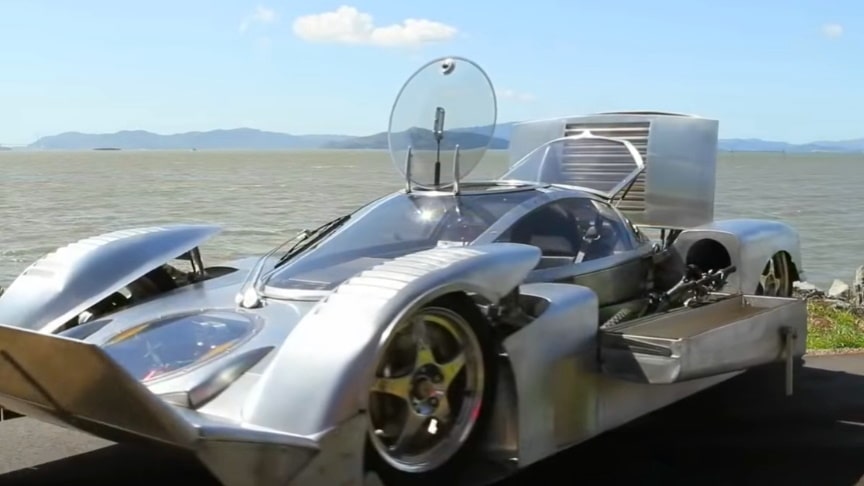 source/image(PrtSC): Ken Wei
And this car could be yours today, as Marc is now ready to cast the car-boat hybrid adrift, putting it up for sale for $259,500.Capped with a brushed aluminum and stainless steel finish, Marc built the car himself over the top of a 174hp Mazda rotary engine, designing a body which could function as a road-vehicle, yet also be waterproof when hitting the lakes and seas for a spin.
The car is one of 25 vehicles that is currently vying for the title of fastest amphibious vehicle.When Marc started building the car in 2006, he aimed to reach 60mph – beating the water-speed record of 45mph set by an amphibious car.That record has now risen to 60mph by a range of competing cars – although with no official body to rule on the faster, many vehicles are claiming the title.
Advertisement
Still, Marc says that if the next owner upgrade his engine, they can reach even greater speeds and land the record themselves – and it is unlikely anyone will top his land-speed record for an amphibian car of 125mph.Indeed, with an engine switch, the car is built out so that it can take speeds of up to 180mph on the road.via: Ken Wei