The Z model is the first Seabreacher with a fully retractable snorkel, allowing pilot and passenger to experience the thrill of high speed 360 degree barrel rolls.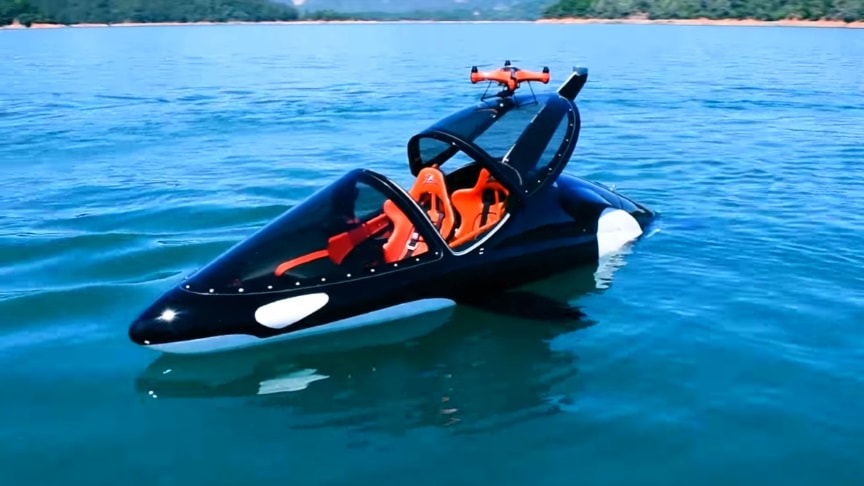 source/image: The Seabreacher
The Z model, which replaces the original J model, retains the friendly dolphin style body but with much higher performance and "aquabatic" capabilities.
This new model will come standard with a Rotax 260hp supercharged engine, two seats, and a fully vectored thrust system.If you're looking for the most extreme watercraft on the market today, the Z model is definitely for you.
Advertisement
The new killer whale vessel, which is similar in size and scale to the real thing, incorporates new Orca inspired design features, including a fully panoramic bubble canopy, a more rounded off nose, new pectoral fins, and a functioning blowhole with the push of a button.
16.5pt vertical-align:baseline. Two seat cockpit, Bubble top panoramic canopy, High performance, low profile wings and elevators, Marine grade stereo system and Bluetooth, Custom powder coat hardware, Custom paint job, Fully customized upholstered interior.
SPECIFICATIONS
One seat (Pilot: 6′ 4″)
Rotax ACE 1500cc 4 stroke engine
230hp Supercharged
Quiet, low emission engine
Length: 192-200″ (4.82m-5.08m)
Width: 42″ (1.06m)
Wingspan: 78″ (1.98m)
Height: 45″ (1.14m) *Snorkel Down
Approximate weight: 1450lb (657.71kg)
Fuel capacity: 14 gallons (52L)