Sinot's Aqua concept is a fascinating 112m superyacht, powered by a hydrogen/fuel cell system.The flowing exterior lines of AQUA are inspired by ocean swells – the surge of energy induced by winds and currents, boosted by the gravitational forces that control the ocean's tides.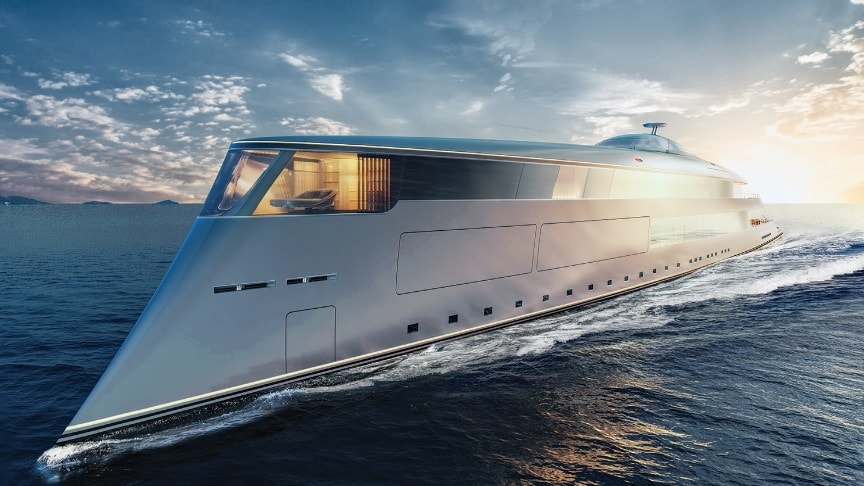 source/image: sinot
Aqua is focused on an environmentally sensitive subject: yacht propulsion and the choice of fuel. Propulsion systems have become highly optimized over the past few years: diesel-electric combinations in many configurations and setups have grown in popularity, with the goal of increasing efficiency and ultimately reducing emissions.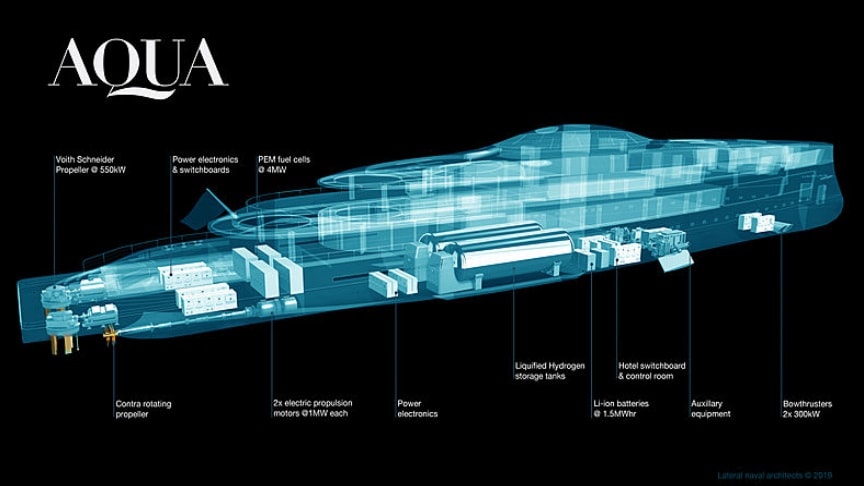 source/image: sinot
To take this discussion into an entirely new realm we have initiated AQUA, our new yacht concept, using a hydrogen-electric system capable of catering for all onboard energy needs.Aqua's curvaceous exterior lines flow from the stern across a 360-degree viewing capsule and wheelhouse and gather at the bow area where a spectacular Aqua room gives guests views never before experienced at sea in ultimate luxury.
Advertisement
The bulk of the guest areas are located forward in the ship where the largest volume culminates as the yacht tapers down aft towards the beach club. The aft deck features a grand staircase and central waterfall that creates an immediate wow factor when boarding at the stern./read more: sinot
In terms of performance, clients can expect to cover a range of 3,750 nm and reach a top speed of 17 knots using PEM fuel cells as the source of power driving a contra-rotating propeller and twin Voith Scheider Prollers. "Reliability and safety are essential in our world," added Sinot. "That's is why we emphasize that we implemented proven technology in a new appliance."//sinot