The Smartpel Move is a multi-function and self-propelled mini-digger on wheels, designed to work quickly and efficiently while maintaining comfort and maximum safety.The tracks give optimum stability by evenly distributing the weight of the machine on the ground.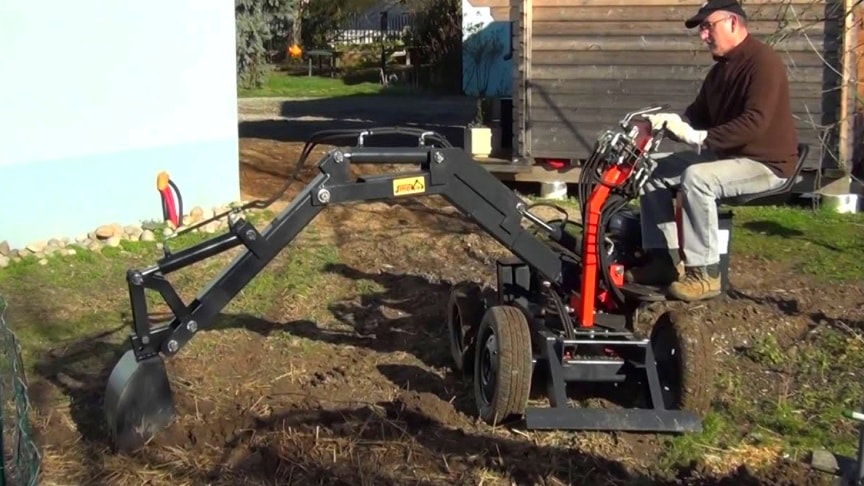 source/image: JMEKA Mini pelles
The Smartpel mini excavators are combined with a series of accessories for digging, leveling, drilling, uprooting and loading. Genuine Swiss knives for the garden.The Jmeka Smartpel is the Swiss army knife for micro-excavators, it is a compact 6-in-1 tool for a featherweight of 495 kg.Self-propelled on 4 wheels, rotation 360 ° continuously, it exists in Smartpel Track version (on rubber tracks).
Why a mini-digger JMEKA:For her easy use thanks to its turret with continued rotation in 360° !For her compact size and her reduced weight which allows you to load her on a trailer or inside a commercial vehicle for a total freedom of movement!For its wide choice of accessories !
Advertisement
Jmeka mini diggers are very compact and easy to use. The drive can be provided by single-axle shifting by means of a spider or by means of a wheeled chassis and self-shifting (Smartpel MOVE). The third option is a crawler chassis that provides the necessary traction and greater stability for a smaller machine.