The big award at The Grand National Roadster Show is Americas Most Beautiful Roadster….aka…The AMBER Award.This is one of several Cars competing for that trophy although those cars are works of art for sure.I didn't shoot many.But this 1936 Ford "Elrod' with a HEMI under the hood was one of my favorites for sure.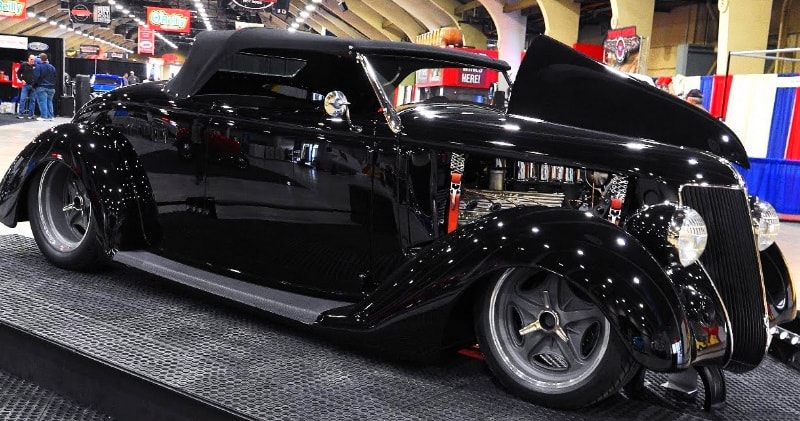 image/text credti: ScottieDTV
Black paint that is a mile deep.The interior is a very cool mix of Hot Rod and High end luggage.Fits the build perfectly.Check it out!!!The work on the underside will blow your mind.It's on Ridetech Shock waves and they had the stance set just right…This Car will be cool for ever.
The car is modified quite extensively though everything is very subtle. Nothing was modified more than a few inches but the windscreen was chopped and leaned, the top bows followed suit, the bonnet was stretched and flattened slightly, the rear fenders were sectioned and stretched, the list goes on and on.
Advertisement
Inside the Boesch-fabricated frame is a stonking 1958 Chrysler 392-cube Hemi beautifully appointed with Hillborn injection and bolted to a Bowler 200-4R auto 'box and 9" Ford rear.