The Airbus BelugaXL is a large transport aircraft based on the Airbus A330-200F built by Airbus to replace the original Airbus Beluga to move oversized aircraft components, such as wings.The aircraft made its first flight on 19 July 2018,and received its type certification on 13 November 2019.The BelugaXL entered service with Airbus Transport on 9 January 2020.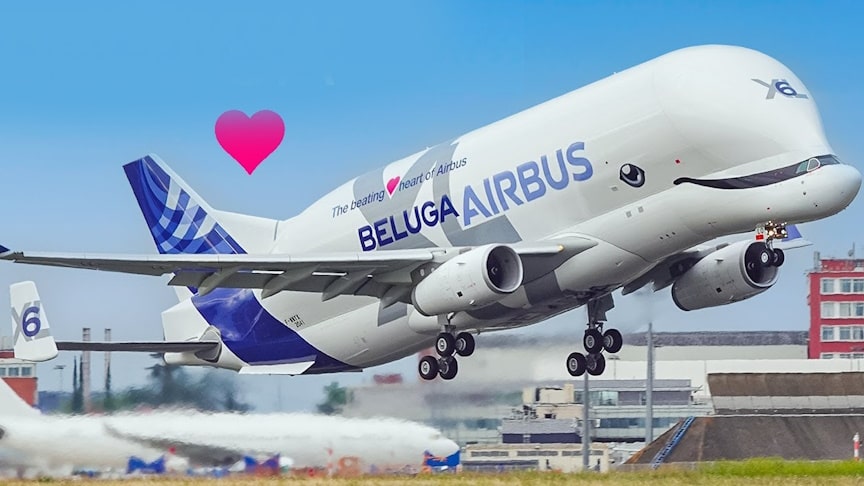 source.image: Eurofilms – Planes & Aviation
With 30% more capacity than the original BelugaST, the BelugaXL can carry two A350 XWB wings instead of one.Its new fuselage is 6.9 m longer and 1.7 m (5 ft 7 in) wider than the original BelugaST, and it can lift a payload 6 t heavier.At 63 meters long and 8 meters wide, the new Beluga is the plane with the largest cargo compartment in the world.The BelugaXL is powered by 2 × Rolls-Royce Trent 700 turbofan, 316 kN (71,000 lbf) thrust each.
The unpressurised hold begins with the tail adapted by Spain's Aernnova, and continues by building the upper fuselage with two side panels and a crown for each section, for a maximum diameter of 8.8 m (29 ft).Produced by Stelia Aerospace, its main freight door has 24 latches, and the nose includes the cockpit, while a four-seat courier section is supplied by Airbus. Its vertical stabiliser is 50% larger; it has auxiliary fins on the horizontal stabiliser, and two ventral fins beneath the empennage.
Advertisement
The no. 1 BelugaXL advances through its assembly process in an accelerated video clip from Airbus' industrial facilities in the Toulouse, France region.
Derived from the A330 jetliner, this airlifter is scheduled to enter service in mid-2019, carrying complete sections of Airbus aircraft from European production sites to the final assembly lines in France and Germany. Five BelugaXLs will succeed the existing five-aircraft A300-600ST fleet, keeping the Airbus production and assembly network operating at full capacity and supporting its production ramp-up.