Meet The Elegante, Steve Kozloff Designs' latest creation is daring and flashy. Introducing The Elegante, a Motor Sailor with a Solid Sail system designed to benefit from the installation of one Chantiers de l'Atlantique Solid Sail/ AeolDrive sail and mast system.The Elegante with the Solid Sail system is an 87 meter, four-deck, single masted polar class sailing yacht.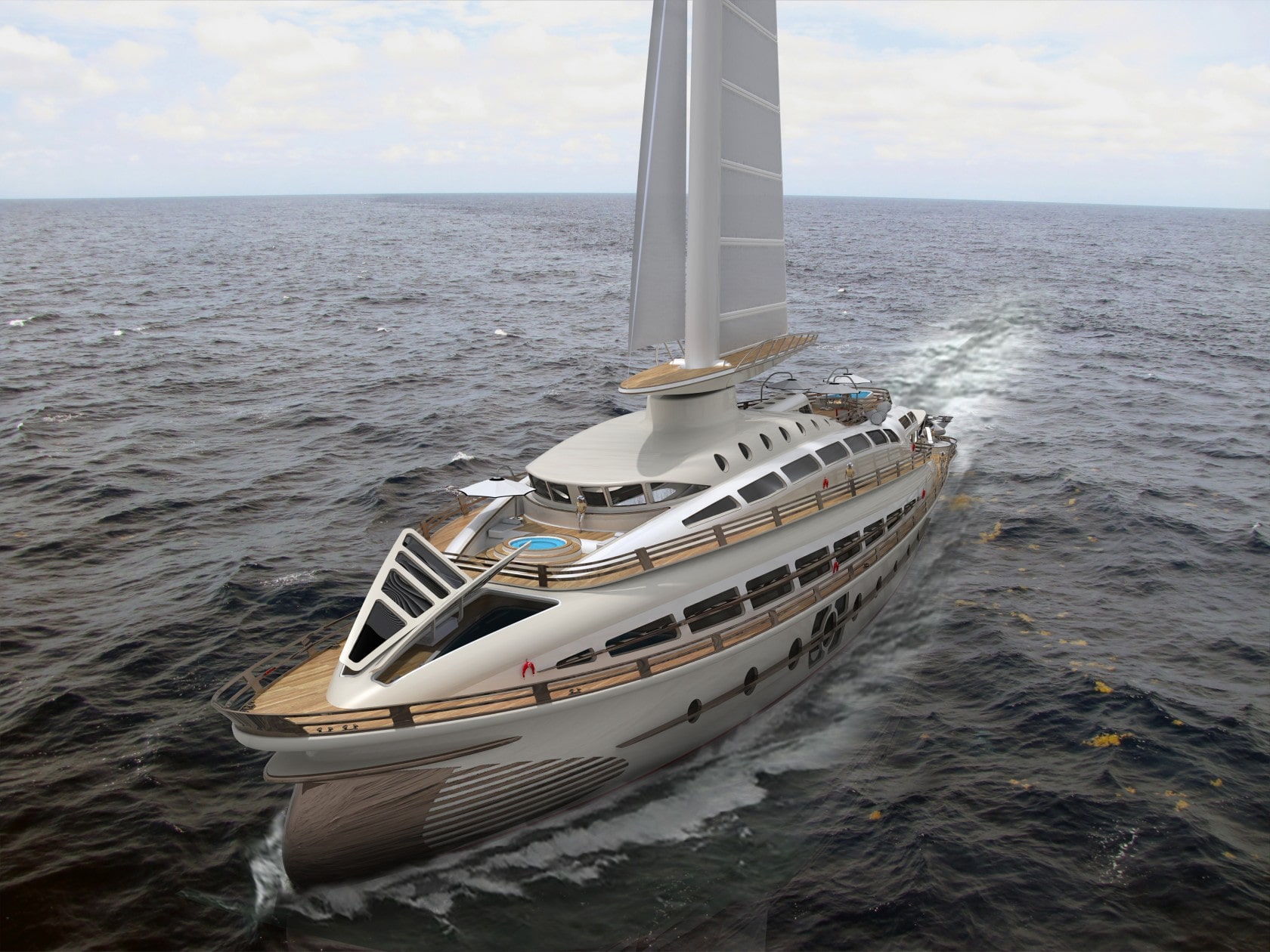 source/image: Steve Kozloff
She is equipped with several One-of-a-Kind features including a 1721 ft² aircraft hangar with a unique elevating landing pad to accommodate up to 2 helicopters or 3 EVTOLs.The elevating landing pad is designed to avoid the ornate guardrails during takeoff and landing.The generous landing area permits safe aircraft operations during rough conditions.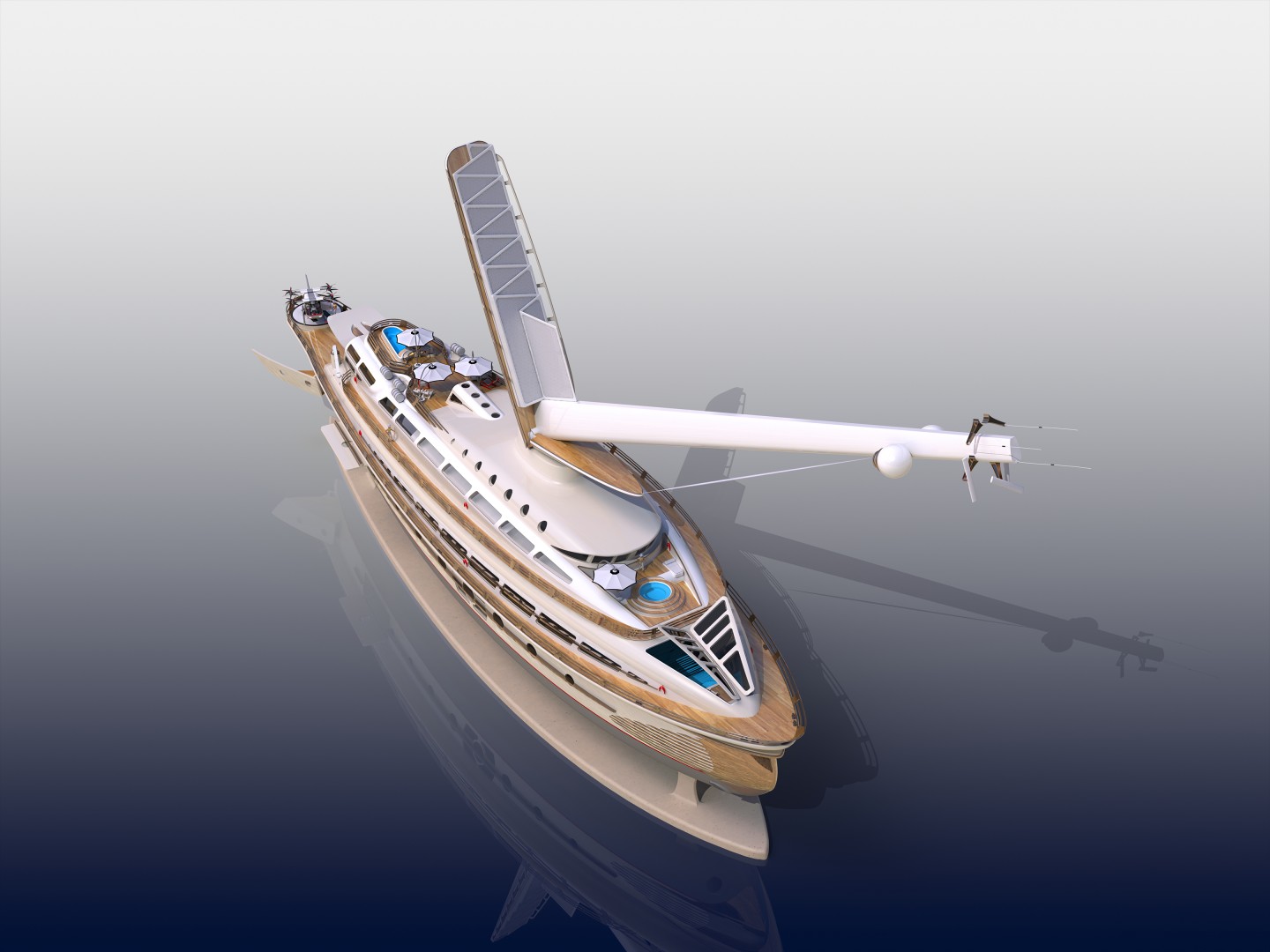 source/image: Steve Kozloff
In proximity of the landing area, the two large cranes can help load and off-load special research equipment easily.The interior space has multi-levels, curved walls, and a multitude of large windows providing a near panoramic view. This will be an exciting space for the future owner and interior designers to create a masterpiece of comfort and luxury.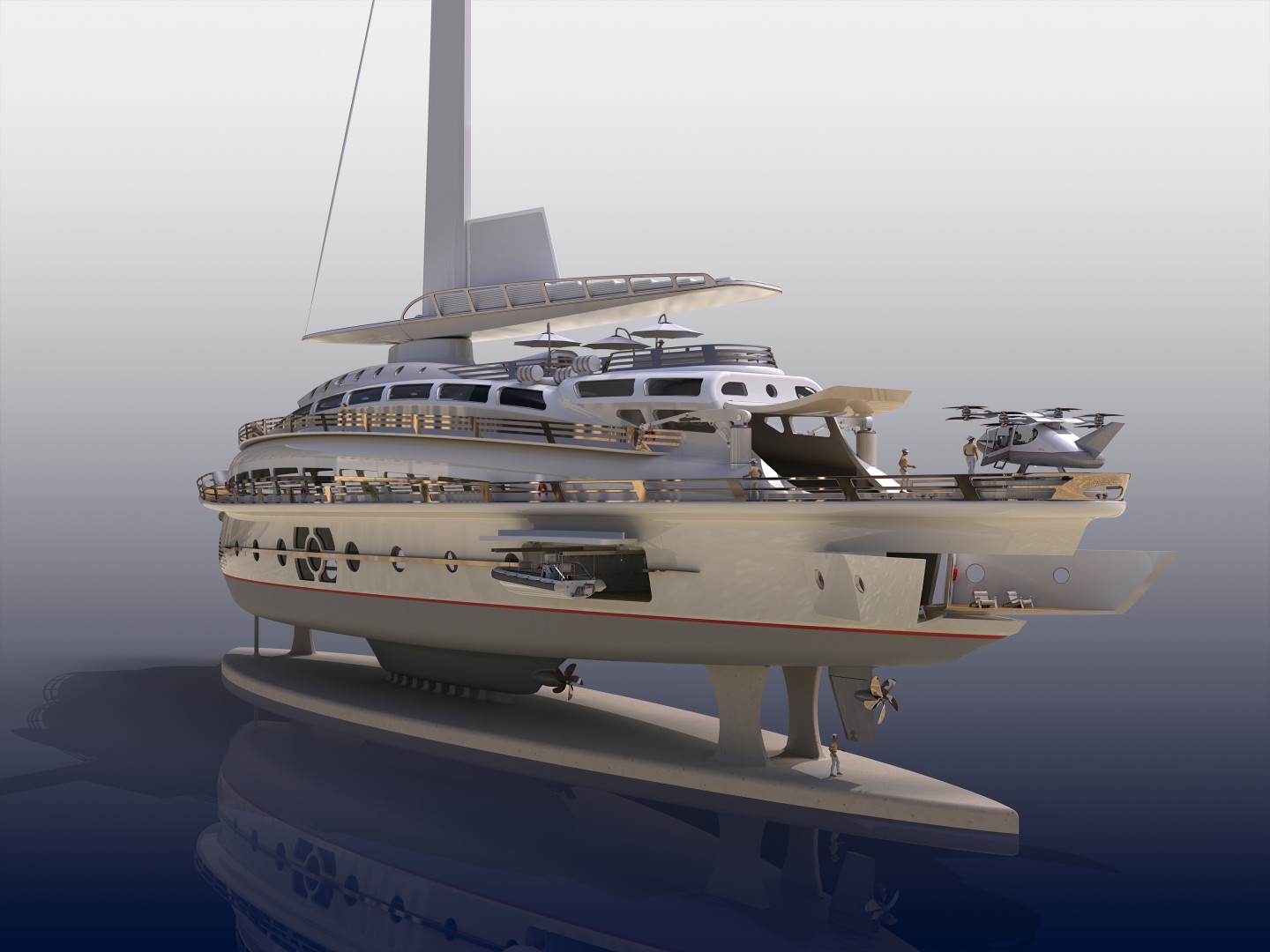 source/image: Steve Kozloff
The Elegante features a massive 1500 ft² owners suite with a private full-sized pool at the bow. The pool features the Kozloff invention of a hard retractable cover; thereby, draining is not required in rough conditions.
Advertisement
The retractable roof is styled like an early vintage automobile hood. She also features a full beam beach club with clam shell doors and retractable decks, a rarity for a sailing yacht.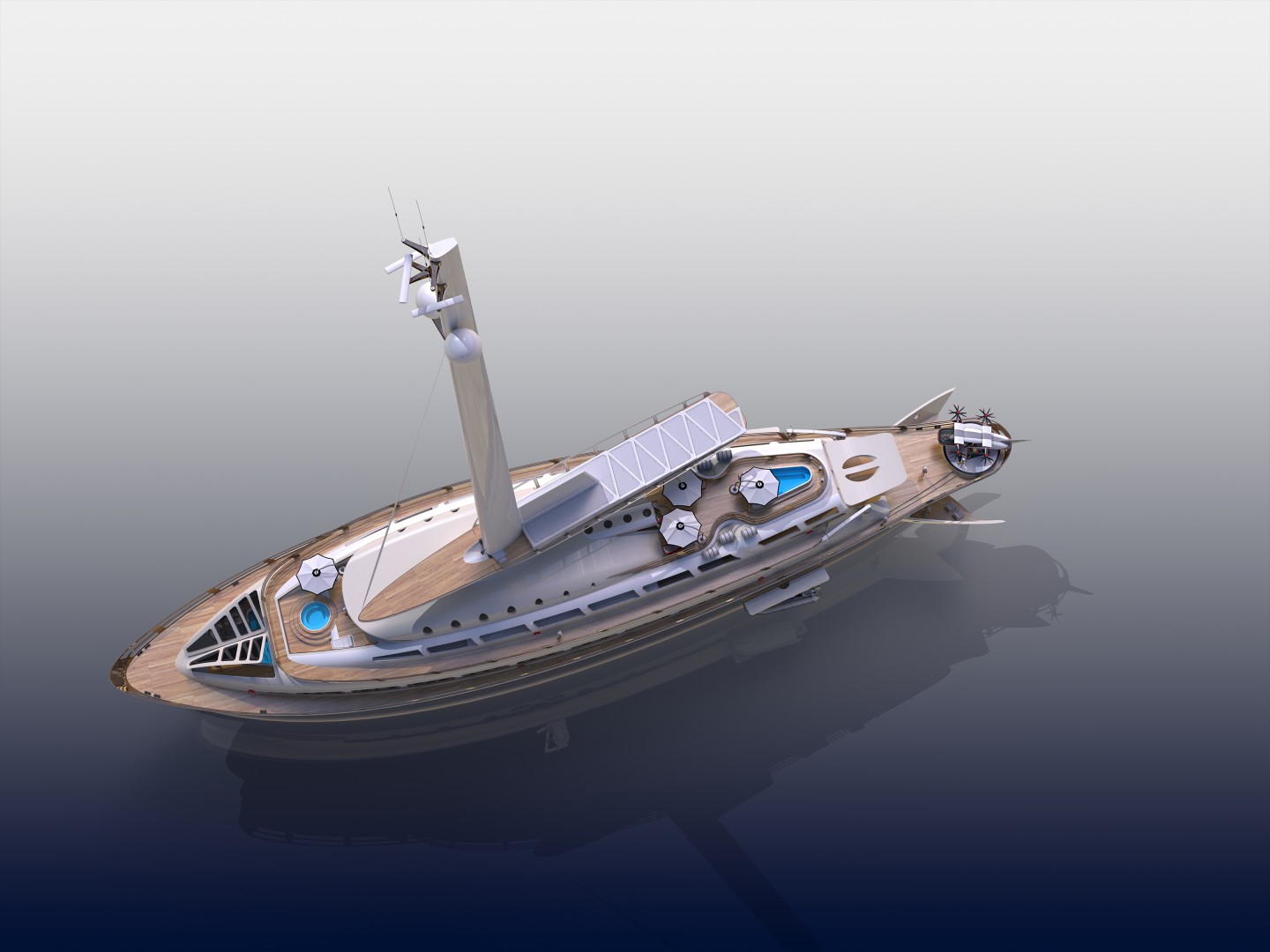 source/image: Steve Kozloff
In addition, The Elegante has 2 master suites, guest cabins that can host 14 guests in fullluxury, and crew cabins can accommodate 20 crew.To assure the safety of all aboard, she is equipped with six lifeboats that can be deployed from the upper deck in the worst of conditions.The Elegante is elegant, luxurious, and graceful, yet has the robust capabilities of an exploreryacht.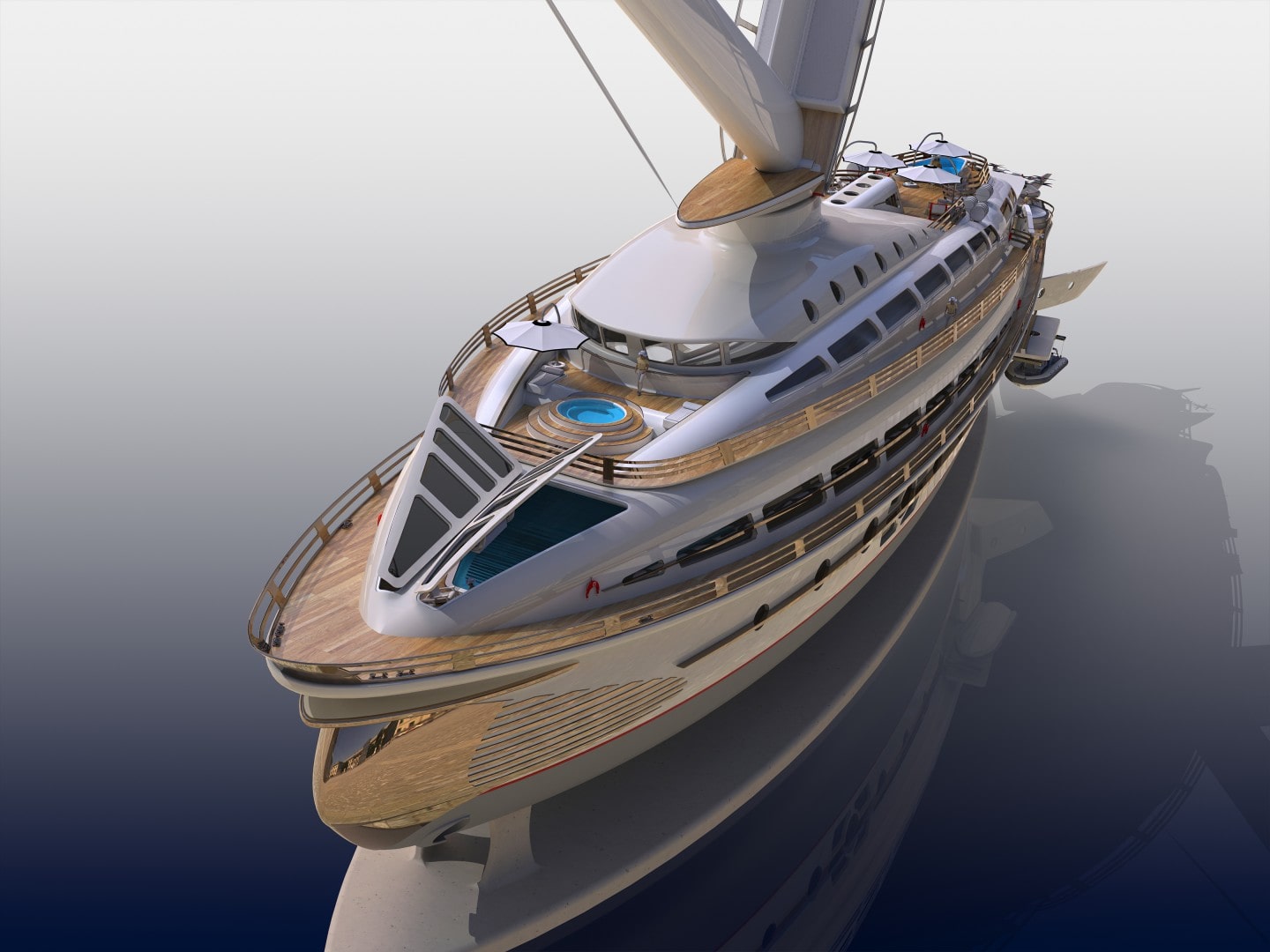 source/image: Steve Kozloff
The Solid Sail system has integrated load sensing technology that informs the captain how much to drive the sail rig. The main sail on the mast is comprised of semi rigid panels that are hinged together. The jib is a traditional Dacron sail that is automatically rolled in or out.The Solid Sail system is significantly less expensive than other free-standing sail rig systems.