The Fuelmatics 5000 unit is the fifth generation of truly automated refueling units. It builds on Swedish world wide patented solutions, being refined continuously.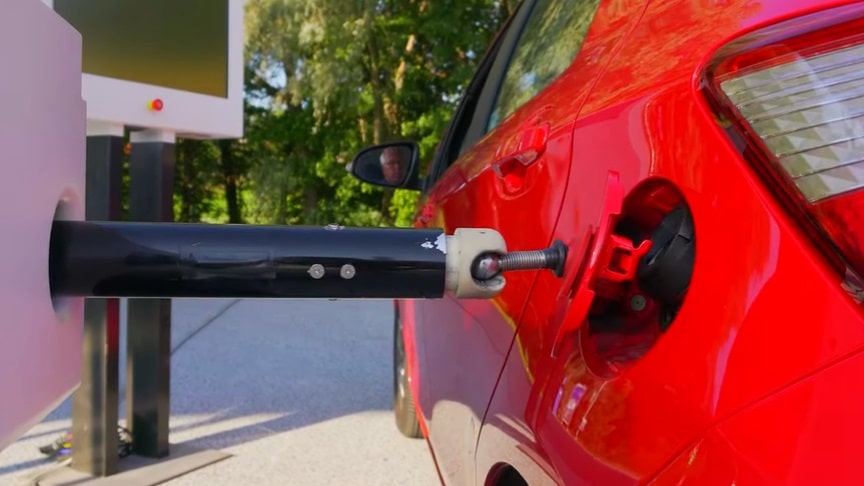 source/image: Fuelmatics
Implementation demo of the Fuelmatics FM5000 system. Fuelmatics is the pioneer in fully automatic refueling systems. Fuelmatics offers a true hands-free refueling experience with an app payment solution. The Fuelmatics FM5000 is the latest iteration of our robotic gas pump.
As refueling's are made in Drive-Thru, no humans are even close to the refueling point, safer than any manual system on the globe. The system is completely free from spill and vapors. Even the main tanks recycles the vapors to liquid fuel, not letting anything out through any vents. The Fuelmatics units can handle both liquids and gases.
Advertisement
The latest 5000 model is more than 200 percent faster than the original model. At the same time the we halved the manufacturing costs. We've also gone from single nozzle units to three nozzle units, that can handle any kind of liquid or gaseous fuels.
There are many benefits with automatic refueling, some of them are:
Faster – 30 – 50 % faster
Cleaner – No more spills or dirty nozzles
Environment-friendly – No more spills, even the vapor can be reused.
Premium service – Offer a premium service for the customers
More efficient infrastructure – Smaller canopies needed
Modern – Inline with today's modern services
Advertising – Sell advertising space on the displays
Increased customer experience – Increased flexibility for the customer
No site controller needed – The system is cloud-based
App payment – No more credit card payment, all transactions are handled via the app