With the expansion of online sales, parcel deliveries increase continously and delivery points propagate. At the same time, cities have to regulate access of their hyper centres to respond to environmental issues.The Libner Group unveiled a solution. Its BIL concept that uses a small, agile, road-legal all-electric 'BIL Truck' carried piggy-back style in a special compartment at the rear of a box, curtainsider or even temperature-controlled body on a larger rigid or semi-trailer.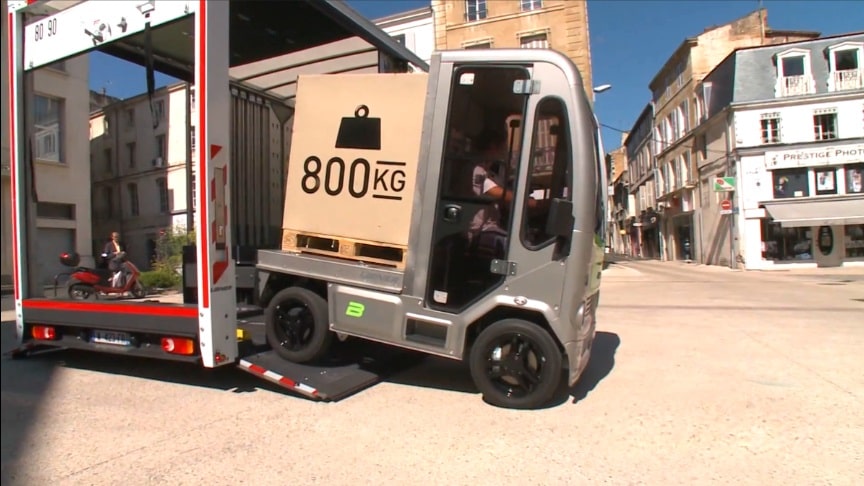 When the 'mother ship' reaches the closest point to the delivery – such as a designated unloading zone outside a pedestrian precinct – the electric truck carrying loads of up to 600kg completes the last part of the journey without noise, emissions or driver strain.
Totally silent, it can deliver emissions free, night and day, and improves the quality of life in urban zones.With its small footprint (3m2), it can travel in the narrowest streets and fit on the BIL LIFT.Capable of carrying pallets of 120 x 120 cm and up to 600 kg, it makes deliveries easier and reduces the arduousness of the drivers' work. Fully charged, it has a 120km range. With no driver on board, the BIL Truck weighs 730kg.
Advertisement
The driver parks the parent truck nearby the delivery are.The leveling of the BIL LIFT with the cargo deck allows to transfer the goods to the BIL TRUCK.The driver of the BIL TRUCK gets out of the parent truck which becomes his logistics base.He reaches the restricted access delivery points, narrow streets, undergrounds… It perfectly integrates in the traffic flow (speed up to 50km/h).The optional extra electric forklift can be used to unload and deliver the pallet to the very last meter.