Cleaner, safer and better functioning waters with fewer machines and less costs – using proven amphibious multipurpose technology saves the environment, resources and time. Multipurpose Watermaster takes out polluted sediments and excess siltation from waterways by suction dredging.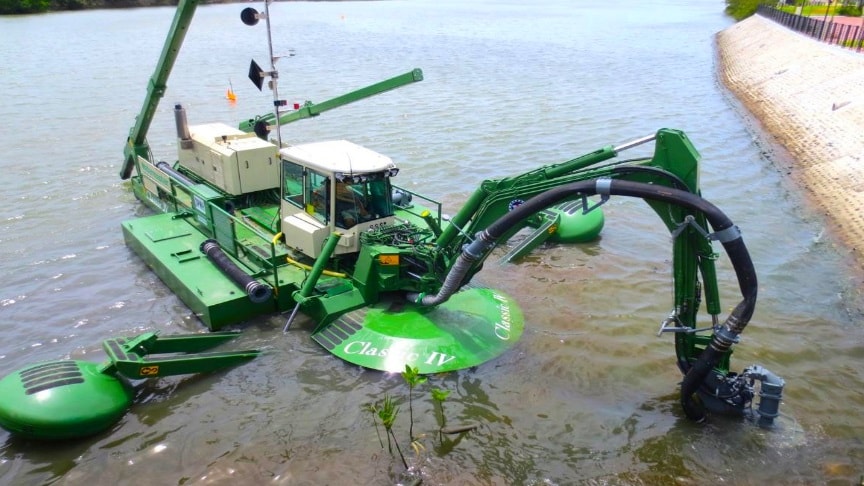 source/image: Watermaster dredgers
It removes trash and invasive aquatic vegetation by excavating and raking. It reinforces riverbanks and seashores by pile driving to prevent erosion and floods and to enhance functionality and the safety of urban areas. Watermaster helps in the building, maintaining and developing of water infrastructure, such as marinas, piers and floodwalls.
Dredging, excavating, pile driving and raking – Multipurpose Watermaster handles all work that would conventionally require many separate machines.
Advertisement
Mobilizing Watermaster is easy: transport as a complete unit, unload from the trailer and walk independently into water without crane assistance. Watermaster has its own propulsion system, four stabilizers and a flexible excavator arm so moving, anchoring and operating in water is quick and independent. Watermaster does not need a tugboat or other assisting machinery.
Engine
Caterpillar C7.1, turbo charged, 6-cylinder diesel engine
air-water radiator cooled
flywheel power at 2000 rpm 168 kW (225hp)
fuel tank capacity 1200 l
electric system 24 V
batteries 2 x 170 Ah
electric refueling pump
Hydraulics
one axial piston pump for dredging and propeller
operating pressure max. 345 bar one axial piston pump for digging and stabilizers
operating pressure max. 230 bar