Fron the Sparte Independant – Erica Norton.Inside the bus:Since its purchase in May of 2016, the bus has been Fuehrer's life. For six months, he would wake up, go to work, get out of work, and then work on the bus until late into the evening. Despite moments of doubt in the winter and even some "fun breakdowns," Fuehrer said those get overshadowed by the friendships and community relationship that the bus has fostered.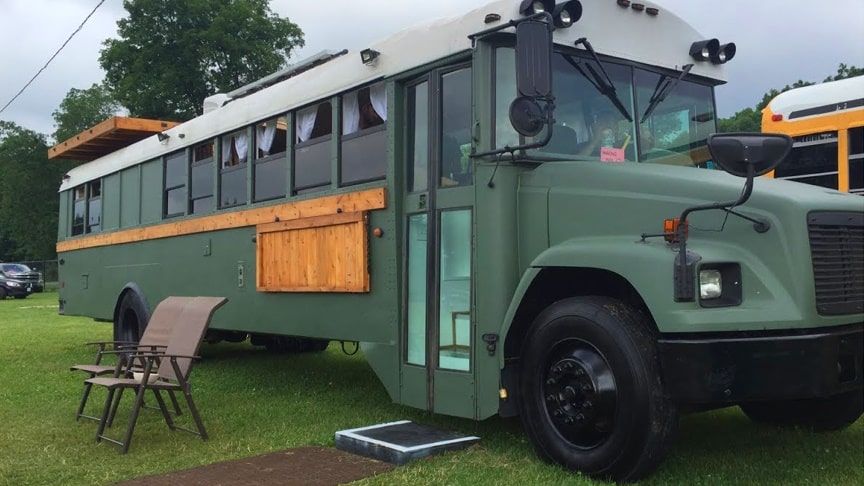 source/image: New Jersey Outdoor Adventures
Through the help of his parents — especially his super handy dad Chris Fuehrer — and lots of friends, the bus is nearly complete. Where there were once rows and rows of seats, a regular old school bus from Pennsylvania now contains all of the things an apartment would have plus a driver's seat.
Inside, there are three couches that fold out into beds, a table that pulls out from underneath one bed and pops up, and cabinet shelves that pull out and become coffee tables. The kitchen has a full-sized oven, a refrigerator, a sink, and two coffee table-sized cabinets which house the furnace for heat and a surround sound system. The bathroom has a completely tiled full shower and a composting toilet, with water tanks under the bus.
Advertisement
Behind the emergency exit door is the "garage" with all the utilities: the hot water heater, the solar energy system, the electrical panel and batteries. Plus there is an 8×10 rooftop deck to hang out on and watch the stars. The bus runs completely on solar energy, with solar panels on the roof, and the stove and water heater run on propane. However, it can hook up to power like an RV if needed. Through the process of building the bus, Michael's dad Chris pointed out that he and all his friends have learned so many skills they can take with them.via/read more: New Jersey Outdoor Adventures