This well-maintained Rapide comes with a registration book, V5C with reg number "HDV 949", dating certificate from the Vincent HRD owners club, copy of the original engine specification of this machine of 20.9.1947, copy of the original "works order from" of 20.9.1947. This machine has been tested for delivery from Baily Sugg (Vincent worker), 23.9.1947 and has been delivered to Mr. Green Newton Abbott, UK, 26.9.1947.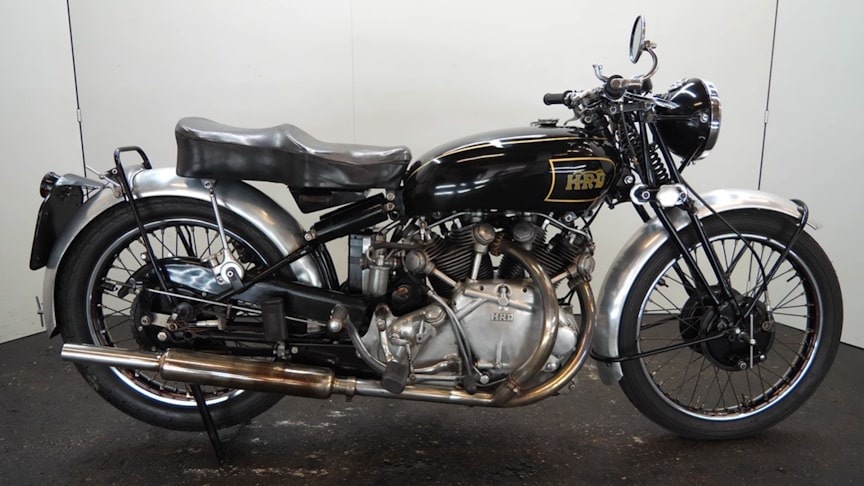 source.image: classic-motorcycle.com
This superbike from the 1940s spent its whole life in the UK and runs fine.Recently the magneto, clutch and carbs has been overhauled. When Vincent resumed production at the war's end it was with the all-new Series B. Its rear suspension aside, the pre-war Series A Vincent-HRD had been conventional enough: tubular steel frame, girder forks, separate gearbox, etc but with the Series B Messrs Vincent and Irving effectively established the marque's reputation for the defiance of convention in the pursuit of engineering excellence.
For a start there was no 'frame' as such, merely a fabricated box attached to the cylinder heads, that served as the oil tank and incorporated the headstock and the attachment point for the rear springs.The gearbox was integral with the engine, and the swinging arm pivoted directly in the engine/gearbox casings, features commonplace today but unusual 60 years ago.
Advertisement
Only in his retention of the pre-war Brampton girder fork did Phillip Vincent appear to be lagging behind other manufacturers, almost all of which had switched to telescopics, but this apparent shortcoming would soon be addressed by the introduction of the famous 'Girdraulic' fork. Introduced in 1946, the Vincent-HRD Rapide Series B was immediately the fastest production motorcycle on sale anywhere, with a top speed of 177kmh. The basic design clearly had even greater potential though, which would be realised later in the form of the Black Shadow and Black Lightning models.