The Vincent Rapide is a line of standard motorcycles designed and built by the Vincent HRD motorcycle company at their works in Great North Road, Stevenage, Hertfordshire, England. The model debuted in 1936 and was built until 1939. Production resumed in 1946 and ended in 1955.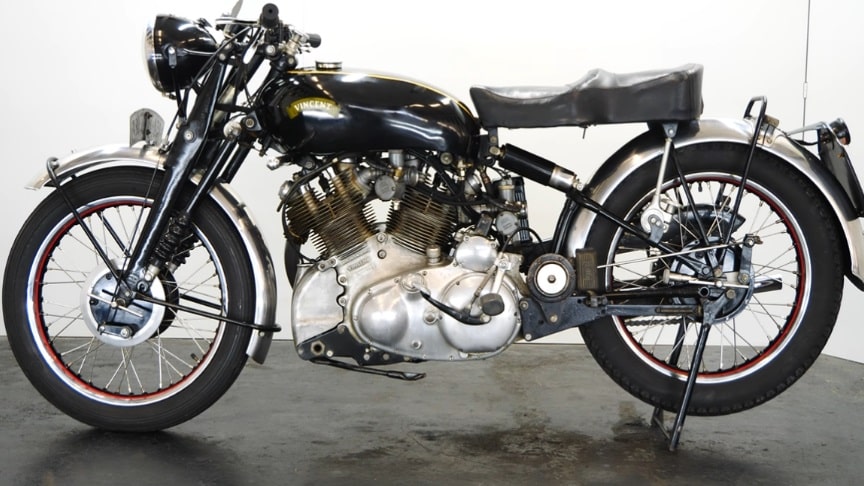 source: wikipedia / image(PrtSc): classic-motorcycle 
The Series A Rapide was the first production Vincent to receive the V-twin engine. The bike's frame was a version of the brazed-lug-and-steel-tube diamond frame used by the Comet, but lengthened to accommodate the longer V-twin engine. The rear suspension was based on the cantilever system patented by Phil Vincent while at Cambridge.
The larger engine intruded into the space previously occupied by the oil tank, so the Series A Rapide received a petrol tank with two fillers – one for petrol and one for oil as the tank was made to serve double duty and brakes were dual 7-inch (180 mm) single-leading shoe (SLS), front and rear.
Advertisement
The engine was an air-cooled 47° V-twin with overhead valves operated by rocker arms and short pushrods driven by two camshafts mounted high in the engine's timing case. With a bore of 84 mm and stroke of 90 mm, total displacement was 998 cc (60.9 cu in). These measurements would not change throughout the engine's production life.//wikipedia
Manufacturer: Vincent
Model: Rapide Series C
Year: 1950
Displacement: 998 ccm
Cylinder: 2
Engine type: 4-stroke / ohv
Bore / Stroke: 84 x 90 mm
Power: 45hp @ 5200 RPM
Weight: 208 kg
Top Speed: 177 km/h
Frame number: RC6465
Engine number: F10AB/1/4565