After victory in the 1920 Junior TT, AJS's new overhead-valve 350 racer scored a memorable double the following year, Tom Sheard winning the Junior race, and Howard Davies the Senior – the first time such a feat had been achieved on a 350.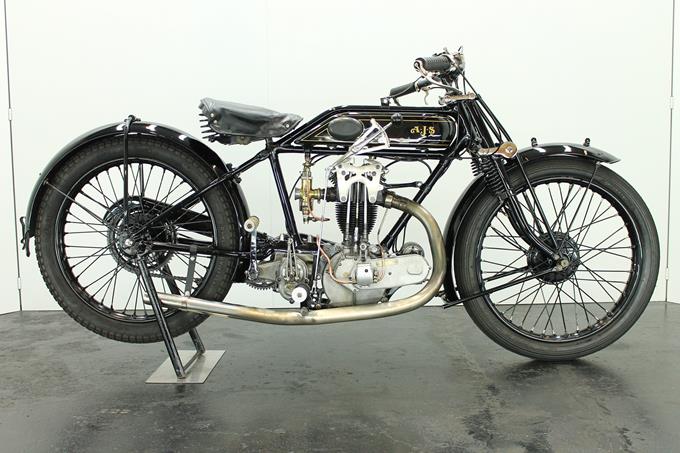 source/image: classic-motorcycle.com
The production version made its debut in November 1922, delighting clubmen everywhere with its 'racer on the road' performance. A right-first-time design destined to achieve countless successes in the hands of privateers, the overhead-valve 350 AJS – latterly known as the 'Big Port' – changed only in detail before being superseded by a much-revised M6 model for 1929.
The latter's engine incorporated a number of improvements including enclosed rocker gear and dry-sump lubrication, while the frame was redesigned to accommodate a saddle tank, and Webb forks replaced the earlier Druids.
Advertisement
This handsome and sporting vintage machine is equipped with a three speed AJS countershaft gearbox. It is older restoration and a well running motorcycle.
Manufacturer: AJS
Model: H6 Bigport
Year: 1927
Bore/Stroke: 74x81mm
Capacity: 349cc
Engine type: 4-stroke / ohv
Cylinders: 1
Compression: 7:1
Topspeed: 130km/h
Weight: 90kg